BLACK FRIDAY sale extended until Thursday 30th! Up to 50% off selected courses – Enrol today!
Working for an Animal Rescue Centre can be an extremely rewarding animal care career opportunity and most of these jobs require relevant training. There are many different types of animal charities and consequently, a large variety of careers and jobs.
Working as a volunteer or work experience will also increase your chances of finding a job in animal rescue and welfare.
Here's a list of some animal charity careers:
Animal Care Assistant:
Animal Care Assistants are employed by most animal rescue charities. The main function of an Animal Care Assistant is to provide for the needs of animals while they are in an organisation's care. The daily work involves cleaning, feeding, exercising and looking after different types of animals in the care of an animal charity. This role is an excellent starting point for someone wishing to gain animal care experience or for those who are unsure as to which animal career they ultimately wish to pursue. Relevant training: Foundation Animal Care Studies Diploma.
Animal Care/Welfare Manager:
This role involves having overall responsibility for how well the organisation works on the ground to assist neglected and abused animals. For the right person, this role can be a highly stimulating and extremely rewarding career. Animal Shelter Management course is relevant for this career as having an understanding of the needs and essential care requirements of a variety of species is essential in this line of work. This course contains individual units with information about the care of cats, dogs, rabbits, small mammals and reptiles. This comprehensive course also has units on companion animal first aid, animal ethics, essential health and hygiene, handling & restraint, environmental enrichment and advising clients.
RSPCA Inspector:
Inspectors are the public face of the organisations they work for and are required to undertake practical investigation work on behalf of the organisation They are required to investigate an initial claim of animal neglect or reported animal cruelty and, if the problem is due to neglect, they work to provide practical animal care advice. In cases of suspected animal cruelty, they collect evidence, undertake interviews and possibly remove the animal from the situation. Later, they may be required to present evidence in court. This can be a highly rewarding career choice, as it involves a hands-on approach to making a difference in terms of preventing and alleviating animal suffering. However, it is an extremely demanding job, both physically and emotionally, and there are many challenges. Level 3 Diploma Animal Welfare Officer has been designed for those who want to pursue a career that involves a hands-on approach to preventing and alleviating animal cruelty and is relevant for working as an Animal Welfare Officer/Inspector for a charity, local authority, council, inspectorate work and more.

Re-homing/Adoption Officer:
Many animal charities take in or rescue animals and re-home them to caring new owners. These organisations operate sanctuaries, shelters or homes where the animals are rehabilitated and cared for until a new owner can be found. Most of these charities employ re-homing/adoption officers who are responsible for ensuring that the animals are re-homed to the right owners. A large part of this role involves educating potential new owners about the responsibilities and commitments associated with having a pet. This is a crucial part of the job, as in many cases people are not aware of what this new commitment will involve – and this lack of awareness often leads to animals being given up again for adoption. Re-homing/Adoption Officers spend much of their time meeting, interviewing and advising potential new owners. You must be an excellent, articulate communicator with good interpersonal skills, have the ability to multi-task and make quick decisions, as well as a thorough understanding of responsible pet ownership and what animals really need. Relevant training: Animal Rehoming Diploma.
Animal Charity Receptionist:
Working as a receptionist for an animal charity allows you to play an important role as part of the team at any animal charity or hospital. They are responsible for the first impression received by a client (by phone or visit), and they are the interface between visitors, staff, adopters, veterinary practices, other organisations and volunteers. The animal welfare charity environment can be highly stressful. To succeed in this role, it is important that you have a calm disposition, are able to work well in a busy environment and that you are organised and able to effectively prioritise your work load. Relevant training: Veterinary Practice Receptionist Diploma.
Animal Ambulance Driver:
This role involves being responsible for the safe transport of sick, injured, recovering or stray animals. It is highly likely that you will have to deal with emergency situations such as road traffic accidents, and it is essential that you are able to respond quickly and calmly, and that you cope well in stressful situations. This career can be an ideal form of employment for someone wanting to set up their own animal care related business. You will be required to have a valid driving licence and previous driving experience (preferably of larger/emergency vehicles), as well as good local road and area knowledge. It is essential that you remain up to date on the latest animal transport legislation and that you have had training such as the Level 3 Award in Companion Animal Transportation.
Veterinary Team:
The veterinary team employed by an animal rescue organisation/shelter usually consists of: Veterinary Surgeons, Veterinary Nurses and Animal Nursing Assistants. The number of each of these professionals depends on the size of the organisation and their objectives or type of work they carry out. The veterinary team is responsible for the health of all the animals cared for by the organisation. Animal charities are very busy environments providing veterinary staff with an excellent opportunity to assist a large number of animals as well as to enhance their knowledge about a variety of conditions and problems that may not frequently be seen in private practice. Working for an animal charity may mean that you have to settle for a lower salary, however, there is plenty of job satisfaction to compensate. As well as assisting with unwanted animals, rescue centres and international animal charities spend a lot of time and resources helping neglected and abused animals. For the veterinary team, this may mean providing emergency care or assisting suffering or distressed animals – this can be highly rewarding yet demanding work and there are several relevant courses and qualifications that are useful for entering animal charity veterinary roles. Animal Campaigner Diploma is an Ofqual regulated qualification that is held in high regard in veterinary practices.
Campaigns Officer:
Campaign Officers are employed by campaigning animal charities who work to raise awareness about current animal welfare issues or problems – with the ultimate aim of solving them. This is an excellent career choice for those who are passionate about animal welfare and wish to make a real difference to help alleviate animal suffering. The Level 3 Diploma in Animal Campaigning has specifically been designed for this career.
Companion Animal Behaviourist:
Of all animal behaviour-related employment, this is the fastest growing field. Work includes training animals and their owners, helping owners with managing problem behaviours, preventing problem behaviours occurring, and working with animal shelters to provide appropriate behavioural remediation for animals that have been abandoned or placed for adoption. Relevant training includes Feline Behaviour & Psychology Diploma and Solving Canine Behaviour Problems.
Home Visitor for an Animal Charity:
Most animal charity organisations that run animal rescue centres employ Re-homing/Adoption officers to interview and match adopters with animals; once the matching process is complete, a Home Visitor visits the new adopters in their home to ensure that the home environment is appropriate for the animal they wish to adopt. This role involves carrying out visits to the homes of potential owners, so as to ensure that they are fully aware of the commitment of owning an animal and that they are able to provide a suitable home environment. Home Visitors are required to be excellent communicators, able to represent the organisation and provide appropriate advice in line with the organisation's policies. Ideally, you should have prior experience of rescued animals and must have a clear and thorough understanding of the requirements of companion animals. Having a relevant qualification such as Animal Rehoming Diploma, will ensure a good understanding of this role as well as enhance employment prospects.
Chief Executive (CEO):
An animal charity Chief Executive Officer is in charge of determining policies and strategy for the organisation and is responsible for the overall operation and plans for future development. CEOs responsible for animal charities should ideally have previous experience of working with animals. Having a thorough understanding of the needs of animals and of current animal welfare issues is essential in this role. The CEO usually reports directly to a Board of Trustees who are unpaid volunteers. The role involves tremendous responsibility for the ongoing operations and future development of an organisation.
Fundraising/Media Team:
In the UK, there is little or no government funding available for animal charities and they are entirely reliant on donations from the public. Media staff are employed by organisations to ensure public awareness of the charity's cause. Fundraisers ensure that sufficient funds are raised in order to enable the organisation to carry out vital animal welfare work. Raising funds is achieved through developing and managing a broad range of fundraising activities. Depending on the size of the organisation (and the income targets), the fundraising team may include the following positions: Fundraising Manager, Public Relations/ Marketing Officer, Events Officer, Trusts/Grants Officer, Legacies Officer, Gift/Charity Shop Manager and Donor/Database Officer. Having a proven track record in raising funds or of working in the charity sector, even as a volunteer, will greatly improve your employment prospects
Volunteer Coordinator:
Most animal charities are highly dependent on voluntary help and therefore many of the larger charities employ a Volunteer Coordinator who is in charge of managing the volunteer programmes and training. This role includes having responsibility for recruiting, training and maintaining volunteers, matching volunteers to suitable duties and supervising where necessary, assisting volunteers by providing resources and feedback.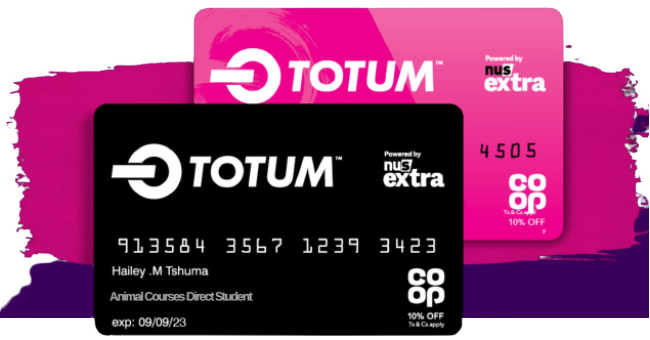 GET YOUR NUS EXTRA/ TOTUM CARD
All students who complete qualifications from level 3 or above are eligible for the NUS extra / Totum Card, which gives you access to over 200 UK student discounts with brands like Co-op, Amazon and ASOS. Apply and find out more at https://www.totum.com/