June Sale - 40% off all courses with code JUNE22 - Ends Monday 27th June
Level 3 Diploma Animal Welfare Officer
| | |
| --- | --- |
| Ofqual Code | 603/4252/3 |
| Qualification Level | 3 |
| Guided Learning Hours | 278 |
| Study mode | Online and Practical training with Tutor support |
| Location of Practical Placement | To be arranged by Student at a workplace or venue of their choice |
| Award type | Diploma |

Level 3 Diploma Animal Welfare Officer
Are you interested in making a practical and positive difference in the lives of animals?
This Ofqual regulated Animal Welfare Officer qualification is perfect for anybody who wishes to work as an Animal Welfare Officer or Animal Welfare Inspector. This is a fulfilling career path to take as it follows a practical approach to animal cruelty prevention and in the licensing of animal-related premises.
This qualification is comprised of nine comprehensive units.
Click Below to Download our Guide to Animal Welfare
Download our Guide to Animal Welfare
Unit 1
Companion Animal Transportation
This unit covers animal welfare responsibilities in transporting companion animals. You learn about appropriate handling, restraint and transport methods for animals in fear, pain and distress, ensuring correct animal handling and minimised stress.
Unit 2
Animal Care
Unit 2 describes the care and welfare of companion animals including equines and reptiles. Information covered in this unit includes signs and causes of ill health and disease, how to prevent infection, disease transmission, nutritional requirements for different animals and finally the principles of correct storage for food and medication.
Unit 3
Animal Behaviour and Environmental Enrichment
In this unit, you study companion animal behaviour and environmental enrichment. You will understand how to improve the environment of animals. Improving animal environments is important in order to avoid behavioural issues, caused by poor quality of life and boredom. You also study the stress indicators and body language expressed by companion animals.
Unit 4
Understanding Animal Cruelty and Interpersonal Violence
In Unit 4, you study the most important aspects of the reporting system regarding non-accidental injury to animals. Learn about the reporting and sharing of information between community service providers.
Unit 5
Equipment Storage and Record Keeping
Animal Welfare Inspectors are responsible for a wide range of equipment; learn about the correct use and management of equipment and how to maintain accurate records.
Unit 6
Understanding Animal Hoarding
In this unit, you develop an understanding of the types of animal hoarders and how to provide intervention. Discover the process of monitoring, reporting and combating hoarding. You also gain an understanding of how agencies and organisations manage hoarding recurrence, whilst studying the relationship between intervention strategies and hoarder types.
Unit 7
Advising the Public
This important unit explores the various ways to promote pet care advice for a range of animal species. Learn how to report a case of cruelty or neglect and the importance of record keeping.
Unit 8
Animal Welfare Legislation
Learn about the legal requirements relevant to the sector and the correct welfare of animals in line with legislation. Having a thorough understanding of legislation will hugely benefit the welfare of animals.
Unit 9
Inspecting Sites
In this unit, you learn about the inspection of premises where companion animals are being treated or accommodated. It includes information about the required standards for a range of companion animals. Learn how to provide advice regarding animal welfare and improving accommodation. Learn how to formulate written policies and procedures. In this final theory unit of our animal welfare officer qualification, you cover information about supervision of staff and training requirements.
Unit 10
Practical Unit
To meet the Defra Statutory Guidance for Local Authorities amendments 01/02/22, learners will be required to carry out practical training and provide evidence of this as part of the qualification. This will be undertaken at a workplace or a venue of your choice.
---
*You will have access to the course for 12 months only, after which, you can purchase extensions.
A Career as an Animal Welfare Officer
A career in animal welfare or as an Animal Welfare Officer is a rewarding one. The role entails a proactive approach to the prevention of cruelty to animals. Day-to-day roles will include identifying animals at risk, assisting local councils and animal charities with animal welfare and also providing talks to schools and other organisations.
Our Animal Welfare Officer Diploma is an Ofqual approved qualification, in line with new legislation. It covers local authority Animal Welfare Inspectors who work for councils, whose role requires inspecting and licensing animal activity businesses. This includes the licensing of any business involved in the welfare, sale and care of animals including dog boarding kennels, catteries, daycare for dogs, home boarding dogs, dog breeding and selling.
There is increasing demand from animal welfare charities, local authorities and other organisations to employ Animal Welfare Officers. Your role is to help and assist animals in need, be pro-active in the prevention of animal cruelty, to comply with current legislation, and to provide practical animal care advice and assistance to the general public about responsible pet ownership.

Additional Course Information
This animal welfare qualification allows you to gain valuable knowledge about the welfare, care and other essential requirements, covering information on a range of companion animals. Discover the world of current animal welfare issues and legislation, first aid, animal handling, transportation, health and hygiene, stress reduction, bite prevention, record and equipment keeping, stray animal management and advising the public about responsible pet ownership. The qualification also includes information about understanding, recognising and responding to animal cruelty, interpersonal violence and animal hoarding.
Why wait? Enrol now to start your career as an Animal Welfare Officer.
For any further career advice or queries, please click the chat box where one of our animal professionals can advise you. If you are interested in our other animal welfare courses, you can view our full course list here.
Alternatively, you may like to view our Working and Volunteering with Animals E-Book, which includes all the information to inspire and assist you in finding the right animal career for you.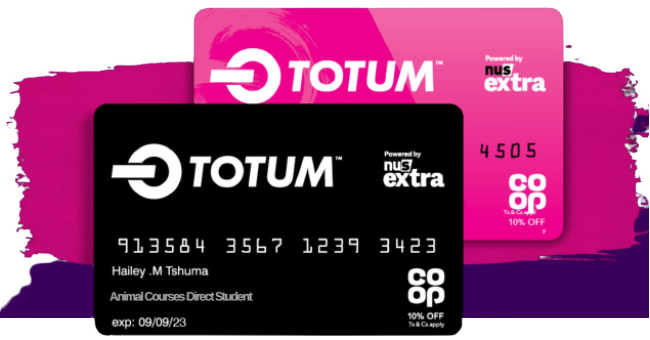 GET YOUR NUS EXTRA/ TOTUM CARD
All students who complete qualifications from level 3 or above are eligible for the NUS extra / Totum Card, which gives you access to over 200 UK student discounts with brands like Co-op, Amazon and ASOS. Apply and find out more at https://www.totum.com/