BLACK FRIDAY sale extended until Thursday 30th! Up to 50% off selected courses – Enrol today!
Get In Touch
Telephone: 01202 006 040
Registered Company Address:

Animal Jobs Direct
Wilson House
Lorne Park Road
Bournemouth
England
BH1 1JN
Registered Company Number: 05612792
VAT Registration Number: 988 5072 65
Contact Form
Frequently Asked Questions
I want to work with animals, but I don't know where to start!
Our Working with Animals ebook is a good starting point – it highlights the many different careers with animals. Or take a look at our career information pages for some information about careers with animals.
Do you provide training advice?
Yes, we have a careers advisor who is happy to answer questions about our courses please phone us or contact us using this form.
What courses do you offer?
We offer a comprehensive selection of accredited courses and recognised qualifications, from dog behaviourist to hydrotherapist to marine zoology! These are designed to help people gain meaningful employment and they are also suitable for general interest learning. Please click here for a summary of all the courses we offer
Do you have feedback from previous students?
How can I find a job working with animals?
Most employers require a combination of relevant training and practical experience. Animal Courses Direct can assist you with both; our courses and qualifications have been designed in consultation with employers to enhance employment prospects and many of our courses include valuable practical training. Are you already qualified? Then please visit our Job Board; it's easy to register and apply for all kinds of jobs with animals.
Are there funding options?
We do offer payment by instalments for many of our courses. Alternatively, please visit this section of our site for more information about possible funding. Our qualifications and courses are designed to help you up skill or move into employment and your ideal career; if you are unemployed and receiving benefits, we suggest you ask your Work Coach whether you may be able to obtain assistance with funding your training.
Can't find the information you are looking for?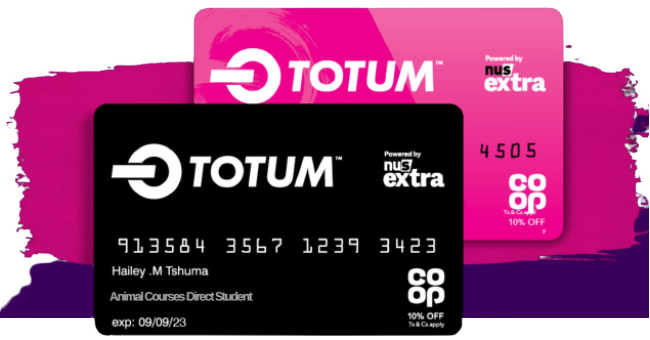 GET YOUR NUS EXTRA/ TOTUM CARD
All students who complete qualifications from level 3 or above are eligible for the NUS extra / Totum Card, which gives you access to over 200 UK student discounts with brands like Co-op, Amazon and ASOS. Apply and find out more at https://www.totum.com/