Frequently Asked Questions
BLACK FRIDAY sale extended until Thursday 30th! Up to 50% off selected courses – Enrol today!
How long does a course take to complete?
Each course and qualification specifies GLH (Guided Learning Hours), this is the approximate time it will take to complete the course. So that students remain motivated, we place a time limit of 2 years for course completion. Some courses must be completed sooner than 2 years and where this is the case, this will be made clear on the website.
Can I study more than 1 course at a time?
Yes, many of our students choose to do this and this is absolutely fine.
Do I have to start with Level 1 before doing a Level 3 course?
Most of our courses are set at Level 3 as this is the accepted entry level for study; Level 1 is very basic and intended for junior students and there is no need to first complete Levels 1 and 2.
What are the Levels equivalent to?
Our courses have been constructed according to the standards set in the QCF (Qualifications and Credit Framework) for Vocational or work-related qualifications in England, Wales and Northern Ireland. Please click here to see a comparison table for the various qualification levels.
Are Animal Courses Direct courses accredited?
Yes. Animal Courses Direct Education Centre offers various Ofqual regulated qualifications, non-regulated courses endorsed by Open College Network West Midlands Quality Endorsement Licence (QEL) and courses accredited by the CPD Standards Office:
Ofqual Regulated: The Office of Qualifications and Examinations Regulation (Ofqual) is the UK government department that regulates qualifications, examinations and tests in England. Colloquially and publicly, Ofqual is often referred to as the exam "watchdog". For training to be defined as a qualification, it must go through the rigorous process of Ofqual approval. This means that it has been written, checked and validated, and is verified regularly for appropriate levelling, quality of materials and assessment. Animal Courses Direct is the world leader for offering Ofqual Regulated Animal Care Qualifications. Our Qualifications are industry approved and recognised by employers across the animal care sector.
QEL Accreditation: Animal Courses Direct has undergone an external quality check to ensure that our organisation and the courses we offer meet defined quality criteria. This approval provides assurance that the content of a training course is of a high standard and meets the rigorous quality assurance requirements of a national awarding organisation. The Ofqual Approved Awarding Organisation, Open College Network West Midland endorsement of our courses involves robust and rigorous quality assurance audits by external auditors to ensure ongoing quality of courses. A review of courses is carried out as part of the endorsement process, and QEL numbers for each accredited course are shown clearly on each approved course page.
CPD status: Animal Courses Direct has undergone a rigorous assessment process that focusses on the high standards of development and delivery of our training and assures a set number of Continued Professional Development hours can be formally achieved for our learners.
Is there a minimum age requirement for studying?
The Ofqual regulated qualifications have a minimum student age of 16 or 18 (stated on each course). There is no minimum student age for studying our non-regulated courses.
I live abroad, can I enrol and study a course?
Yes, our courses can be studied from anywhere in the world and we have many students from around the world who study our online and practical courses. How much do your courses cost in other currencies? We can't respond to individual requests for course prices in different currencies and we suggest student's use the XE.com currency converter website for the latest conversion rates.
I don't know which course to choose!
There are many different career options working with animals, our Working and Volunteering with Animals ebooks are packed with unique information, these are available to purchase and download from our website. Additionally, we have a careers advisor who is happy to provide information about our courses, please contact us by phone or email for careers and training advice.
Can I see some testimonials from previous students?
Yes, we have many student reviews, please click on this link for student success stories. We are rated Excellent on Trustpilot, please click here to read our reviews.
Do I have to attend a college to do these courses?
No, our courses are studied from home and there is no need to travel to attend a college. We do have several practical courses if you prefer studying in this way.
Will these courses help me to get a job?
We cannot guarantee that they will lead to employment but they will certainly enhance your CV and give you an improved chance of finding the work you are looking for. Upon completion of a course, we suggest that students visit our Job Board where you can upload your CV and search for the latest vacancies. We are dedicated to assisting students every step of the way and will assist in any way possible.
Will I need a work placement as part of my course?
Most of our courses do not require students to have a work placement. Where a work placement is required, this is stated clearly on the course page.
Can I still study if I have a specific Learning Disability?
Yes you can. If you have a specific learning disability we will try to adapt your chosen course where possible to reflect the neurodiverse way in which individuals learn. Please let your tutor or student support officer know if you have any specific requirements and we will work with you to make the course material as inclusive for you as possible.
What are the course start dates?
Unless stated otherwise, students can can start studying at any time convenient to you. Simply click on the 'enrol now' button and once you have paid your enrolment fee, we will assign you a tutor and get you started on your studies. Students have 2 years to complete a course.
Are there payment options?
Some of our courses have instalment payment options that allow you to spread the cost of your studies. If a course has instalment payment options, this will be shown clearly on the course page.
Am I eligible for course funding?
It is possible that you may be able to get assistance with funding your studies, please click on this link for more information.
What is your refund policy?
Which course do I need to become a Dog Behaviourist or work with dogs?
The Ofqual regulated Level 6 Diploma in Applied Canine Behaviour Management is a highly sought after qualification for working as a Canine Behaviourist. This qualification consists of 3 parts and is split into 30 theory units. This comprehensive qualification includes 10 intensive practical training and assessment days. We have mapped out a training path with the canine courses we offer that will enable students to gain extensive knowledge and progress right up to Level 6.
What course do I need to complete to meet Animal Activity Licensing Requirements for Dog breeding, Boarding Cattery, Dog Boarding Kennels, Day Care for Dogs and Dog Home Boarding licensing requirements?
As part of the new Animal Activity Licensing (AAL) regulations, as from 1st October 2018, staff working for Dog Boarding Kennels, Boarding Cattery, Day Care for Dogs, Dog Home Boarding, Dog Breeding and Pet Shops, must have must have clear evidence of knowledge & experience or a minimum of an Ofqual regulated Level 2 qualification in a relevant subject. Or, to meet the Higher Standard, a member of staff with a relevant Ofqual regulated Level 3 qualification must be present during the working day.
All of the Ofqual regulated qualifications offered by Animal Courses Direct meet the new Animal Activities Licensing (AAL) requirements.
Someone else is paying for my course, is that ok?
Yes, that's absolutely fine. Once payment has been made, a Student Registration Form is sent by email; please ask the person who has paid to put your information on the Student Registration Form and we will enrol you.
How does the subscription membership work and how do I add courses?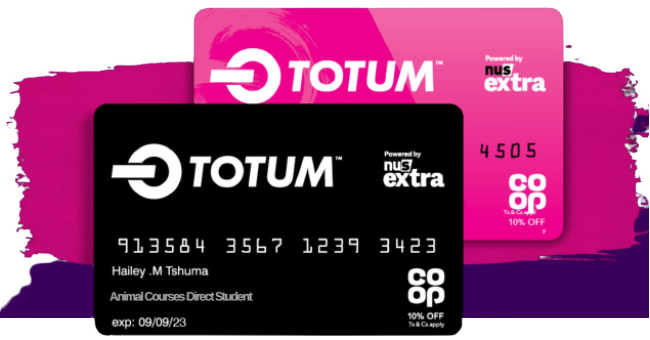 GET YOUR NUS EXTRA/ TOTUM CARD
All students who complete qualifications from level 3 or above are eligible for the NUS extra / Totum Card, which gives you access to over 200 UK student discounts with brands like Co-op, Amazon and ASOS. Apply and find out more at https://www.totum.com/