BLACK FRIDAY sale extended until Thursday 30th! Up to 50% off selected courses – Enrol today!
Marine and Conservation Careers
Although they cover over 70% of our planet's total surface, our seas and oceans remain largely unknown. Humans have explored less than 5% of our global oceans, and to this day new species are discovered daily. It is estimated that we are still yet to discover around 75% of species.
Even though our oceans are largely undiscovered, they are vital to life on earth in a variety of different ways; they control global temperatures based on oceanic currents, drive weather systems, provide transport, whilst also providing food and habitats for its extremely diverse inhabitants.
To ensure the future of our oceans and the work surrounding them, there are a wide range of marine careers available. Careers in marine and conservation make vital contributions to society and the overall health of our planet. Below, we have listed marine career options you may be interested in.
Marine Career Options
Freshwater and Marine Biologists:
Marine and Freshwater Biologists largely work with sea plants and animals. Freshwater biologists will mostly work on rivers and lakes. They can also work for water companies and environmental agencies researching areas such as pollution concerns and depleted fish stocks resulting from overfishing. If you are interested in UK marine conservation, there are opportunities available both in the UK and abroad.
Relevant training: Marine Biology Diploma.
Marine Rescue Charities:
Marine Rescue charities are involved with the rescue and rehabilitation of stranded, injured or sick marine creatures. There may be a variety of both voluntary and paid roles available. Taking a relevant marine-related course will help improve your chances of gaining successful employment.
Relevant training: Principles of Marine Animal Rescue.
Marine Careers in Aquariums:
There are a variety of different roles and positions in aquariums. Ranging from animal care, conservation roles, equipment maintenance, cleaning and alternative positions. A large proportion of positions available require training in marine zoology or biology or a related field. You will need practical knowledge and hands-on experience.
Relevant training: Marine Zoology Diploma.
Aquarist:
This is a popular, entry-level, practical role located in an aquarium setting. It requires a large amount of responsibility for both the marine aquatic systems and freshwater systems. The work also involves monitoring animal health, checking the water quality, cleaning and feeding. You may also be required to help to maintain and set up new exhibits, whilst also watching the behaviour of the wild aquarium animals ensuring that they live in conditions as close as possible to their natural environment.
Aquarium Supervisor:
Aquarium Supervisors are responsible for managing a team of aquarists, overseeing and organising day-to-day activities, training and recruiting new employees and ensuring a high standard of work is carried out effectively. This ensures that the animals' welfare is a priority and that high cleanliness standard is maintained.
Marine Curator:
Marine Curators promote and design the exhibits, oversee the daily duties of other staff, ensure aquarist staff are trained to a high standard and must maintain accurate records. A minimum of a BSc degree in biology, a degree in marine conservation or a similar relevant field is required. Most employers will also expect previous experience of managing a team as well as management training.
Herpetologists:
Herpetologists study amphibians and reptiles. They provide key information and research, conducting food supply studies, observing general research that may even include searching for new species.
Relevant training: Herpetology Diploma.
Other Aquarium Careers:
Other Aquarium careers include administrative staff, such as finance director, assistant director and personnel director, general office staff, veterinary team, fundraising director, gift shop/facilities manager and volunteer co-ordinators.
How to kick-start a Marine or Conservation Career?
For anyone interested in a marine career or job, it's advisable to have both relevant training and practical experience. An easy way to gain practical experience is through volunteering, either in the UK or abroad. Additionally, to get your CV noticed by employers you can choose to take a relevant marine course online or a qualification. A perfect blend of theoretical knowledge and practical training will put you in the best position for a successful marine career.
If you already have a relevant qualification, you may like to visit our job board to search for the latest jobs in the marine animal sector. Alternatively, if you would like to discuss marine jobs or relevant training with one of our animal professionals, please click the chat box below.
Animal Courses Direct offers various online and practical Marine Animal Courses designed in consultation with employers to enhance career and employment prospects. We offer a wide range of Conservation Courses, and marine conservation courses online, to help you kick-start a career in conservation.
Need help to answer the question: what is Ocean Conservation? We also include introductory courses on a range of marine topics and areas to suit your needs.
Why not take a look now and choose the perfect course to complement your marine career?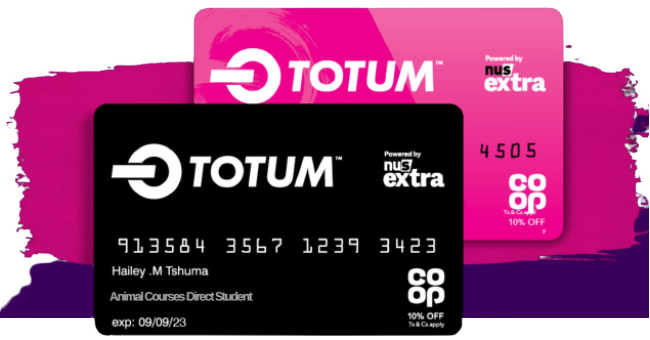 GET YOUR NUS EXTRA/ TOTUM CARD
All students who complete qualifications from level 3 or above are eligible for the NUS extra / Totum Card, which gives you access to over 200 UK student discounts with brands like Co-op, Amazon and ASOS. Apply and find out more at https://www.totum.com/