BLACK FRIDAY sale extended until Thursday 30th! Up to 50% off selected courses – Enrol today!
AIM Qualifications Level 3 Diploma in Small Animal Hydrotherapy
| | |
| --- | --- |
| Ofqual Code | 603/4410/6 |
| Qualification Level | 3 |
| Guided Learning Hours | 326 |
| Credits | 44 |
| Practical Placement (Mandatory) | This course includes 6 days of practical training at a Woozelbears centre: Chepstow, Witney, Melksham. Placement dates can be chosen to suit the learner once the threshold has been met. |
| Study mode | Online and practical |
| Award type | Diploma - Learners can expect their certification within 6 months of completing the course, following the (EQA) External Quality Assurance of assessment. All course fees, inclusive of all payment plans including our Premium Credit Limited option, must be settled before certification can be ordered. |
| UCAS Points Provided | 32 |
| Post Completion | Learners can become a member of the Canine Hydrotherapy Association (CHA) or the National Association of Registered Canine Hydrotherapists (NARCH) following completion of this course. |
| Assessment | You will be assessed via a combination of video and photo submissions, your supervisor will also need to provide witness testimonies. |
| Enrolment Valid For | You have 24 months to complete your course. |
| Entry Requirements | Learners must be age 16+ to enrol. |





International Association of Animal Therapists (IAAT)
Students who have completed their qualification in Small Animal Hydrotherapy can apply for a membership at the International Association of Animal Therapists (IAAT)



International Association of Animal Therapists Membership Benefits

Membership of IAAT is open to all animal therapists, veterinary surgeons and nurses and students. Applicants should be the holder of, or a student on, a qualification in the relevant animal therapies.
Click Below To Download our Guide to Small Animal Hydrotherapy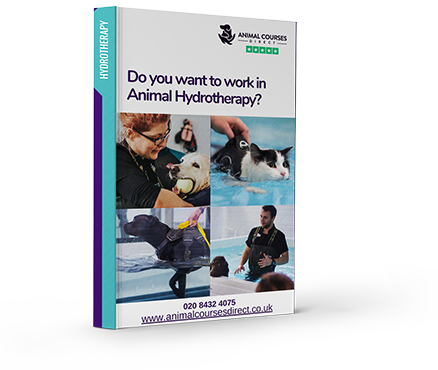 UCAS Points Allocation
All Level 3 qualifications at Animal Courses Direct attract UCAS Tariff Points, meaning that successful learners can use their qualification as part of their university application process. This is ideal for anyone looking to study a degree or continue their training at a Higher Education (HE) provider.
Each Level 3 course is allocated a certain number of UCAS Tariff Points, ranging from 8 points to 48 points depending on the course. If you are keen to advance your academic career, then our Level 3 qualifications can play a big part in your progression.

Unit 1
An Introduction to Hydrotherapy (40 GLH)
This unit provides background information about small animal hydrotherapy. Gain an understanding of the properties of water, types of equipment used in hydrotherapy and the intended outcomes of hydrotherapy.
Unit 2
Anatomy and Physiology of Small Animals (20 GLH)
The unit provides an introduction to the subjects of anatomy and physiology – this is essential for successful hydrotherapy sessions and achieving the desired outcome.
Unit 3
Gait Analysis and Biomechanics (24 GLH)
This unit studies gait patterns and relevant terminology, as well as posture and muscle contractions relevant to hydrotherapy treatment.
Unit 4
Hydrotherapy and Related Conditions (30 GLH)
This unit explores the conditions that are commonly presented for hydrotherapy. This includes medical, orthopaedic and neurological conditions.
Unit 5
Introduction to Small Animal Massage (24 GLH)
Explore the benefits of small animal massage and the techniques used in small animal massage. Learn about the various forms of massage and the benefits of massage on common injuries.
Unit 6
Maintenance of Hydrotherapy Equipment and Water Balance (14 GLH)
Learn about water testing and how to interpret results from water tests.
Unit 7
Practical Administration of Hydrotherapy (35 GLH)
This unit explores the practical application of hydrotherapy from the initial assessment to preparation of the patient, to hydrotherapy treatment and aftercare.
Unit 8
Practical Advanced Aquatic Treadmill Techniques (20 GLH)
Learn about the practical application of advanced aquatic treadmill techniques and how to adjust hydrotherapy treatment and review patient performance.
Unit 9
Practical Aquatic Treadmill Therapy (24 GLH)
This practical unit is all about the aquatic treadmill and how to create treadmill sessions for patients.
Unit 10
Professional Practice Management (25 GLH)
Learn about the importance of CPD, professional conduct within the workplace, roles and responsibilities within a hydrotherapy centre and administration carried out in an animal hydrotherapy centre.
Unit 11
Small Animal Assessment for Hydrotherapy (20 GLH)
This unit studies the veterinary referral process. It also explores the subject of health checking small animals. Learn about the various professional team members that are involved in assessing patients suitability for hydrotherapy and the patients subsequent treatment.
Unit 12
Small Animal Behaviour (15 GLH)
Gain an understanding of small animal behaviour in relation to hydrotherapy. Learn about safe handling and how to understand body language in small animals.
Unit 13
Small Animal First Aid (10 GLH)
This unit examines the aims of first aid, the different types of emergency that the student may come across in a hydrotherapy centre, and the practical application of first aid techniques.
Unit 14
Tissue Healing Process (25 GLH)
This unit explores the tissue healing process, including factors that may affect this process, types of pain, and timing of hydrotherapy treatment.
---
Practical Placement Venues
These may change depending on the current situation but will not affect the students online learning
---
---
Chepstow, Witney and Melksham
Minimum student age: 16 years
Students will gain an understanding of the techniques involved in the provision of hydrotherapy and the assessment required before small animal hydrotherapy commences. Learn about the various medical conditions and their impact on hydrotherapy treatment. This regulated qualification also develops students knowledge around tissue healing, small animal behaviour and professional practice management.
There is a focus on Practical Aquatic Treadmill Therapy and Advanced Treadmill Techniques – something that is not offered in any other qualification. Additionally, students will learn terminology to be able to conduct gait analysis and review patient performance practically.
This qualification consists of a blend of theory and practical training that includes:
The theoretical principles of animal hydrotherapy and treadmill therapy, as well as theoretical guidance on how these therapies can be used
Details on the conditions that hydrotherapy can benefit. These are primarily orthopaedic, medical and neurological in nature, and therapists are required to be well-versed in these conditions in order to accurately administer therapy
First aid and dealing with small animal emergencies – this is essential for therapists who intend to work in animal healthcare and a mandatory requirement from the CHA/ NARCH to practice as a hydrotherapist
Practical administration of hydrotherapy for dogs, cats, rabbits and other small animals
Small animal behaviour relevant to dogs, cats, rabbits and other small animals in a therapeutic setting
Thorough guidance on learning to assess an animal's likely outcome from hydrotherapy and how to ascertain whether the treatment is suitable for a specific case
Learn about small animal anatomy and biology; essential for ensuring robust baseline medical knowledge
The basic fundamentals of administering hydrotherapy, such as assessment, handling of the patient, managing the equipment and other elements that are essential for effective treatment
Learn how to manage aftercare for an animal that has experienced a session of hydrotherapy, and how to interact with pet owners to explain performance during the session
All paperwork requirements and training on report writing about hydrotherapy treatments
As well as the theoretical study, the Level 3 Diploma in Small Animal Hydrotherapy also involves a large amount of practical training and assessment spread over 6 days. This includes:
Intensive hands on training and assessments with our team of experienced Vets, Physiotherapists and Hydrotherapists at Woozelbears, a well established canine hydrotherapy company. This centre has top of the range equipment including underwater treadmills, large bespoke pools, hydrotherapy spa, the 2nd gait analysis treadmill in the UK and a team of highly qualified personnel. Gain hands on training with a variety of dogs attending for rehabilitation and sports conditioning. Train with highly qualified, experienced hydrotherapists and veterinary physiotherapists to learn how the treatment is used in a working rehabilitation clinic. This includes pool hydrotherapy and hydrotherapy treadmill treatments, including innovative advanced aquatic treadmill techniques. The practical training enables students to learn from experienced professionals in the industry while working with a range of cases at different stages of treatment.
This small animal hydrotherapy qualification will ensure you are employable as an animal hydrotherapist; there are many companies around the country that are recruiting for qualified Small Animal Hydrotherapists. Woozelbears Hydrotherapy offers franchise opportunities in various parts of the UK if you have the ambition to own your own business.
Please note, course fees must be paid in full prior to attending the practical placement.
Average study duration:
4 month option: 20-30 hours study per week over 4 months
1 year option: 8-10 hrs per week spread over 1 year
*You will have access to the course for 24 months.
The 6 practical training days are additional to the above time guides
Entry requirements:
Students must demonstrate previous experience with animals
The minimum age for access to this qualification is 16 years
Students are required to have a good understanding of English language, have good physical mobility and physical fitness and be a confident swimmer
FAQ:
Q - When should I consider booking my practical placement?
A - We recommend that you consider booking your practical placements when you are nearing the completion of your theory units to ensure you have gained the relevant knowledge and skills to apply for your assessments (remember each theory unit must achieve 100% to pass).
Q - How long is my practical placement?
A - Our Diploma covers 4 different practical units and your practical placement will be for 6 days that need to be booked for one block/visit.
Q - What will I do during my practical placement?
A - During your practical placement you will observe our skilled and experienced team of Hydrotherapists and take part in delivering hydrotherapy treatment to a range of patients. You will also demonstrate your abilities in delivering first aid procedures, testing the water's chemical levels, using a treadmill and pool for hydrotherapy treatment, and advanced techniques to enhance treatment for some patients.
Q - How will I be assessed in my practical?
A - For your practical assessments you will be observed by our skilled staff and they will record your performance through videos and photographs. This evidence will then be formally assessed by your tutor.
Progression Routes: This qualification can be used by students to gain employment in the animal care sector, to set up their own animal hydrotherapy business or to progress to further study in the animal hydrotherapy/physiotherapy sector.
More About Hydrotherapy and this qualification
What will you learn if you sign up for this qualification? You'll discover valuable information regarding the use of hydrotherapy to treat small animals. This includes answering some critical questions:

* How can this unique form of therapy benefit small animals in varying states of physical health?

* Which medical conditions respond best to hydrotherapy?

* What are the safest and most effective procedures for applying hydrotherapy techniques?

It is fair to say that animal medicine and understanding has come a long way over the past few decades. As a result of this continual dedication to development, our pets are now able to enjoy longer, healthier and happier lives. One such innovation that has helped to contribute to the overall well-being of the nation's pets is animal hydrotherapy. Hydrotherapy has long been a popular treatment technique for humans; it is non-weight bearing, so is comfortable for the vast majority of users. Expanding the inherent benefits of hydrotherapy to the animal world was inevitable, and the practice has now been perfected.

Furthermore, there is a huge demand for qualified animal hydrotherapists, therefore working as a qualified animal hydrotherapist or setting up an animal hydrotherapy business can be an excellent career option.

For those wishing to be involved in the medical care of animals, learning more about the benefits of hydrotherapy and hydrotherapy treadmill therapy is important. To address this need, there is now a specially tailored qualification that has been designed to teach students all they need to know about using hydrotherapy with animal patients. This Level 3 Diploma in Small Animal Hydrotherapy equips students with the knowledge and expertise they require to deliver safe, competent and beneficial hydrotherapy to animals under their care.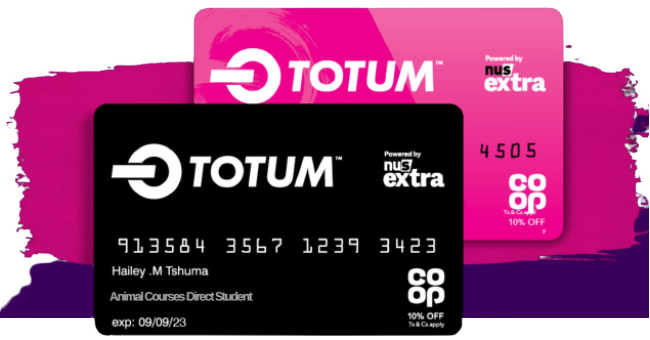 GET YOUR NUS EXTRA/ TOTUM CARD
All students who complete qualifications from level 3 or above are eligible for the NUS extra / Totum Card, which gives you access to over 200 UK student discounts with brands like Co-op, Amazon and ASOS. Apply and find out more at https://www.totum.com/