BLACK FRIDAY sale extended until Thursday 30th! Up to 50% off selected courses – Enrol today!
AIM Qualifications Level 3 Diploma in Small Animal Hydrotherapy (Top up for Veterinary Physiotherapists)
| | |
| --- | --- |
| Ofqual Code | 603/4410/6 |
| Qualification Level | 3 |
| Guided Learning Hours | 326 |
| Enrolment will be valid for | You have 24 months to complete your course. |
| Credits | 44 |
| Practical Placement (Mandatory) | This course includes 6 days of practical training at a Woozelbears centre: Chepstow, Witney, Melksham. Placement dates can be chosen to suit the learner once the threshold has been met. |
| Study mode | Online & Practical |
| Start Date | Anytime |
| Entry Criteria | Candidates will need to provide evidence of their Physiotherapy qualifications in order to enrol on this qualification. Candidates must be aged 16 or over. |
| Assessment Method | You will be assessed via a combination of video and photo submissions, your supervisor will also need to provide witness testimonies. |
| Award Type | Diploma - Learners can expect their certification within 6 months of completing the course, following the (EQA) External Quality Assurance of assessment. All course fees, inclusive of all payment plans including our Premium Credit Limited option, must be settled before certification can be ordered. |
| Post Completion | Learners can become a member of the Canine Hydrotherapy Association (CHA) or the National Association of Registered Canine Hydrotherapists (NARCH) following completion of this course. |
Course Description:
The Level 3 Diploma in Small Animal Hydrotherapy has been designed as a top-up for Veterinary Physiotherapists who want to further their professional development in animal hydrotherapy.
This qualification includes online theory and 6 days of practical experience in hydrotherapy and aquatic treadmill training where learners will be able to conduct gait analysis and review patient performance. Over 11 units, learners will gain knowledge of the techniques involved in the provision of hydrotherapy and the assessment required before small animal hydrotherapy commences.
The Canine Hydrotherapy Association (CHA) recognises this qualification as part of their criteria for joining their membership for qualified Small Animal Hydrotherapists. In addition, qualified Small Animal Hydrotherapists can apply for an official membership of the International Association of Animal Therapists (IAAT).
Unit 1
Unit 1: Introduction to Hydrotherapy
This unit is intended to provide learners with background information on hydrotherapy. They will understand what hydrotherapy is and various aspects involved in hydrotherapy from the properties of water to the equipment used. The learner will know the legislation related to the practice of hydrotherapy.
Unit 2
Unit 2: Hydrotherapy and Related Conditions
The aim of this unit is for learners to gain knowledge of the conditions that are commonly presented for hydrotherapy, including medical, orthopaedic and neurological conditions.
Unit 3
Unit 3: Maintenance of Equipment and Water Balance
Learners will develop the knowledge to understand the importance of key aspects of maintenance in a hydrotherapy setting. This will include water testing and how to interpret results from water tests.
Unit 4
Unit 4: Practical Administration of Hydrotherapy
Learners will explore the practical application of hydrotherapy from the initial assessment to the preparation of the patient, to hydrotherapy treatment and aftercare. They will be able to conduct hydrotherapy pool sessions. Learners will be able to demonstrate skills in the practical administration of hydrotherapy.
Unit 5
Unit 5: Practical Advanced Aquatic Treadmill Techniques
This unit provides learners with the knowledge, information, and practical application of advanced aquatic treadmill techniques to adjust hydrotherapy treatment. Learners will be able to conduct a gait analysis and review patient performance.
Unit 6
Unit 6: Practical Aquatic Treadmill Therapy
This unit aims to give learners a practical skillset when using the aquatic treadmill. They will develop knowledge to understand factors affecting patients in the aquatic treadmill. They will be able to assess the small animal patients for suitability and create a design plan.
Unit 7
Unit 7: Professional Practice Management
The aim of this unit aims to demonstrate to learners the importance of Continual Professional Development and Professional Conduct within the workplace. Learners will develop knowledge of the roles and responsibilities within a hydrotherapy centre and the administration to be carried out.
Unit 8
Unit 8: Small Animal Assessment for Hydrotherapy
This unit provides explores the veterinary referral process, assessment, and health checking of small animals. It also looks at the various professional team members involved in treating a patient, and their suitability for hydrotherapy.
Unit 9
Unit 9: Small Animal Behaviour
Learners will understand small animal behaviour in relation to hydrotherapy. They will develop knowledge related to safe handling and understanding body language in small animals.
Unit 10
Unit 10: Small Animal First Aid
This unit looks at the aims of first aid, different types of emergencies that the learner may come across in a hydrotherapy centre, and practical application of first aid techniques.
Unit 11
Unit 11: Tissue Healing Processes
Learners will develop knowledge of the tissue healing process, including factors that may affect this process, types of pain, and timing of hydrotherapy treatment.
---
You will have access to the course for 2 years.
Hydrotherapy can benefit a range of conditions, these are primarily orthopaedic, medical and neurological in nature. Hydrotherapy is often recommended to help animals recover from injury or as part of a pain management plan. Some animals require Hydrotherapy treatment for weight control – particularly if they suffer from obesity.
Hydrotherapy is non-weight bearing, so is comfortable for the vast majority of users. Water allows the animal to move in a buoyant environment and can provide several health benefits including:
Joint Flexibility
Improved Mobility and Movement
Reduced Joint Pain
Build Strength
Cardiovascular Fitness
There are several pre-existing conditions experienced by animal patients that could benefit from using Hydrotherapy as a form of treatment. These include
Muscle and ligament Injuries
Sprains
Broken Bones
Hip Dysplasia
Spinal Injuries
Paralysis
Post-operative Muscle Regeneration
Osteochondritis Dissecans (OCD)
Obesity
Weight Control
Hydrotherapy, in conjunction with veterinary treatment, can increase the healing process, improve general fitness and help aid recovery from injury.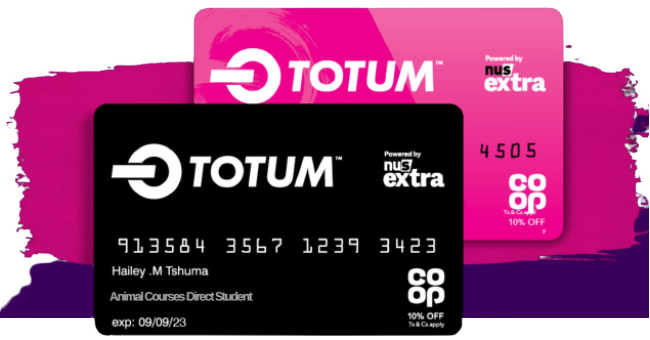 GET YOUR NUS EXTRA/ TOTUM CARD
All students who complete qualifications from level 3 or above are eligible for the NUS extra / Totum Card, which gives you access to over 200 UK student discounts with brands like Co-op, Amazon and ASOS. Apply and find out more at https://www.totum.com/