May Sale - 40% off all courses with code MAY22
Level 3 Diploma in Kennel and Cattery Management
| | |
| --- | --- |
| Ofqual Code | 603/4611/5 |
| Qualification Level | 3 |
| Guided Learning Hours | 359 |
| Study mode | Online |
| Award type | Diploma |

Unit 1
Canine Behaviour
This unit studies canine body language, common signs of stress and aggression and how stress can escalate into aggression. Gain an understanding of the body language signs and signals, unwanted behaviour that may arise and the signs of stress and aggression.
Unit 2
Care of Canines in Kennels & Dog Day Care/Dog Boarding
This unit studies the causes of disease transmission & prevention and the appropriate welfare measures for kennels, dog day care and dog boarding environments. Learn about safe entry and exit management, essential PPE and the importance of environmental stimulation in kennels, dog day care and dog boarding environments. Learners will understand basic health and welfare issues for kennels, dog day care and dog boarding establishments and how to ensure all canine needs are met.
Unit 3
Care of Felines in Catteries
This unit explores how to promote and maintain the welfare of cats in catteries. It includes information on health checking, methods of disease prevention & control and effective ways to provide environmental enrichment and mental stimulation. This unit also covers administering preventative and prescriptive medications.
Unit 4
Feline Behaviour & Psychology
When working with cats, it's useful to have an understanding of feline behaviour and psychology. This unit includes force free behaviour improvement, the human-feline relationship as well as signalling and communication behaviour of cats.
Unit 5
Management
What style of management should you have? What is the difference between management and leadership?
This unit looks at different styles that may be used in running a kennel and cattery establishment.
Unit 6
Animal Welfare Legislation
Owners of boarding kennels and catteries are required to have an understanding of relevant legislation.
Unit 7
Feline Handling and Transportation
Learn about the safe, force free handling and transportation of cats including the correct use of equipment and record keeping.
Unit 8
Canine Handling and Transportation
This unit studies force free handling and transportation. The unit also includes information about equipment and record keeping necessary when working with stray and kennelled dogs.
Duties of a Kennel and Cattery Manager
The Kennel or Cattery Manager may be responsible for recruitment, staff training, daily routines, general management and maintaining high standards of care and hygiene throughout the kennels as well as dealing with marketing the business and customer care.
Study this Kennel and Cattery Management Course
You can Enrol Now on this course or Contact Us for more information about this Kennel and Cattery Course and how to study online.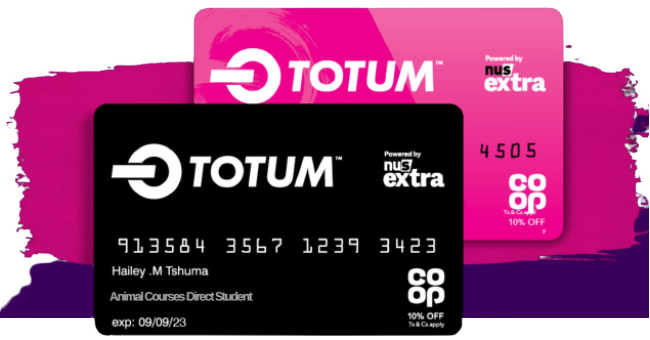 GET YOUR NUS EXTRA/ TOTUM CARD
All students who complete qualifications from level 3 or above are eligible for the NUS extra / Totum Card, which gives you access to over 200 UK student discounts with brands like Co-op, Amazon and ASOS. Apply and find out more at https://www.totum.com/