BLACK FRIDAY sale extended until Thursday 30th! Up to 50% off selected courses – Enrol today!
AIM Qualifications Level 4 Diploma in Canine Welfare, Training and Behaviour
| | |
| --- | --- |
| Ofqual Code | 603/4823/9 |
| Qualification Level | 4 |
| Guided Learning Hours | 361 |
| Start Date | Anytime |
| Study mode | Online |
| Award type | Diploma |
| Entry Criteria | Level 3 regulated qualification in Canine Behaviour / an Animal related qualification |

Unit 1
Dealing with Canine Behaviour Problems
This unit explores some of the most common behaviour problems and their causes and solutions.
The wellbeing of dogs in rescue and boarding kennels is also studied, along with humane training equipment. Learn about various alternative therapies that may be considered in conjunction with behaviour modification.
Unit 2
Canine Anatomy and Behaviour
Gain an understanding of the skeletal, muscle, and locomotory systems and how these body systems can impact behaviour.
Unit 3
Canine Guardians
Unit 3 explores the human role in behaviour problems and how lifestyle can influence a dog's behaviour.
Unit 4
Canine Learning Theory
Gain a thorough understanding of classical and operant conditioning. Understand the various rates of reinforcement and when to use them and an understanding of the way dogs learn and how we should be training them. Clicker training is covered in this unit. Please note, we only support force-free training methods.
Unit 5
Canine Nutrition
This unit studies the major nutrients that dogs require and provides an understanding of the anatomy and physiology of the canine digestive system. Students will learn the value of various dietary plans for various health conditions and how food can impact behaviour.
Unit 6
Canine Physiology
Unit 6 explores the physiology – circulatory system, the nervous system, the urinary system, skin, the reproductive system, the digestive system, and the respiratory system.
Unit 7
Canine Play and Exercise
Play and exercise can influence behaviour. This unit explores how to use play to improve unwanted behaviour. The subjects of mental stimulation and environmental enrichment are also explored in this unit.
Unit 8
Influences on Canine Behaviour
Unit 8 considers the role of nature versus nurture, along with various medical conditions that can impact behaviour. The role of stress in unwanted behaviour problems is also considered.
Unit 9
Running a Dog Training Class
By the end of this unit, you will gain an understanding of the essential business requirements and skills needed to run classes and be able to plan a training class.
---
*You will have access to the course for 12 months only, after which, you can purchase extensions.
Level 4 Diploma in Canine Welfare, Training and Behaviour
This qualification is relevant for learning about canine anatomy and physiology, training and behaviour, the role of exercise and nutrition, and how to run dog training classes. The Level 4 Diploma in Canine Welfare, Training and Behaviour is a qualification. It is a progression from the Level 3 Diploma in Canine Care Behaviour and Welfare.
This Level 4 qualification is for those wanting to embark on a career as a dog behaviour practitioner and upon successful completion, students can progress onto the Level 5 and Level 6 Canine qualifications.
This course is open to learners who may not yet have qualifications in canine care, but instead have sufficient experience within the sector. Please note, we strongly advise learners to study canine qualifications prior to this level before enrolling, to help their learning and understanding of the course materials.
As with all of our theory courses, you are assigned your tutor who will support and guide you throughout this canine behaviour qualification. All of our dog qualifications are developed in consultation with behaviour experts, rescue workers and experienced tutors who all support force-free training. We do not support aversive techniques and only promote force-free methods.
FAQS:
Why do we have entry requirements?
Entry requirements are set by the Awarding Organisation, and ensure that anyone enrolling onto a qualification has the foundations of knowledge and academic study requirements to enable them to progress onto the appropriate level of study.
What happens if I don't meet the entry criteria?
Don't worry! We offer the qualification that you need to meet the entry requirements, you can take the levels as a package.
What can be used as acceptable evidence of entry requirements?
Acceptable evidence that can be taken by us are:
Qualification certificates with transcripts (lists of units taken)
Confirmation from college/ university of achievement (including Awarding Organisation, qualification title, level and units) if certificates are not yet processed.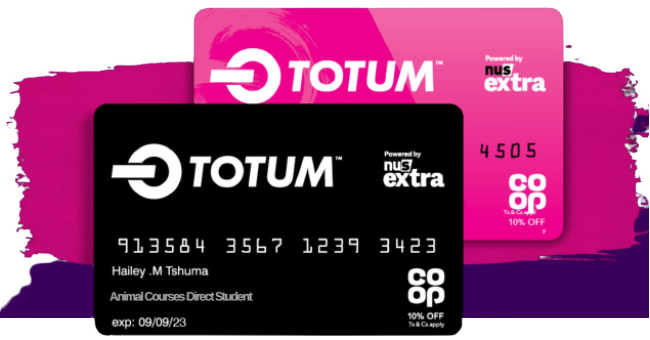 GET YOUR NUS EXTRA/ TOTUM CARD
All students who complete qualifications from level 3 or above are eligible for the NUS extra / Totum Card, which gives you access to over 200 UK student discounts with brands like Co-op, Amazon and ASOS. Apply and find out more at https://www.totum.com/