BLACK FRIDAY sale extended until Thursday 30th! Up to 50% off selected courses – Enrol today!
| | |
| --- | --- |
| Guided Learning Hours | 2 |
| Accredited CPD | 2 hours |
| Study Mode | Online Webinar |
| Entry Criteria | There are no entry requirements to enrol on this course but learners must be aged 16 or older to enrol. |
| Assessment Method | There are no assessments included in this online Canine First Aid Webinar. |
| Certification Timeframe | Learners can expect their certification within 6 months of completing the course, following the (EQA) External Quality Assurance of assessment. |
This intensive 2-hour online webinar will equip you with the knowledge and skills you need to help dogs when emergency strikes. Anyone with dogs in their care, be it personally or professionally, need to keep them safe, healthy, and happy. Part of this is knowing exactly what to do should the dog have an accident, illness or injury.
First Aid isn't an alternative to professional veterinary care, but in an emergency, having these skills can be the difference between life and death. In just 2 hours this online Canine First Aid Webinar will take you through the entire concept of First Aid for dogs, including the principles and main purpose of First Aid.
You will explore the different injuries and illnesses that can occur, and what you need to do in each situation.
These include:
Broken limbs
Choking
Drowning
Electrocution
Heat stroke
Heavy bleeding
Hypothermia
Resuscitation
Road traffic accidents
Shock
You will also learn ways of transporting an injured dog, bandaging and muzzle application. In addition to this, you will be introduced to common sources of poison in the home and garden, bites, stings, and fits. To help you be resourceful in any situation, you will be taught how to improvise and make a stretcher, splint, muzzle and restraint out of everyday materials.
Unit 1
Online Webinar
This online webinar does not include a list of set modules, but by the end of your training you will:
Understand the basic principles of first aid for dogs
Understand how to handle an injured dog
Understand how to use improvised first-aid equipment
Understand how to administer CPR
Canine First Aid Course Information
Any animal professional must keep their knowledge of animal first aid up to date, so this online training is especially useful for those who work with canines every day or even on occasion.
This could be for anyone working in:
Animal Charities
Animal Hydrotherapy
Private Businesses
Veterinary Practices
Any other capacity
This online Canine First Aid Webinar is also valuable training for all dog owners.
As the webinar content is regularly updated to be in line with the latest First Aid methods, it acts as an ideal refresher course for people working in the animal sector and contributes towards professional CPD training.
Further Qualifications and Prospects
If this course inspires you to learn more about dogs and even enter a career working with canines, you can view the entire suite of our online canine qualifications here.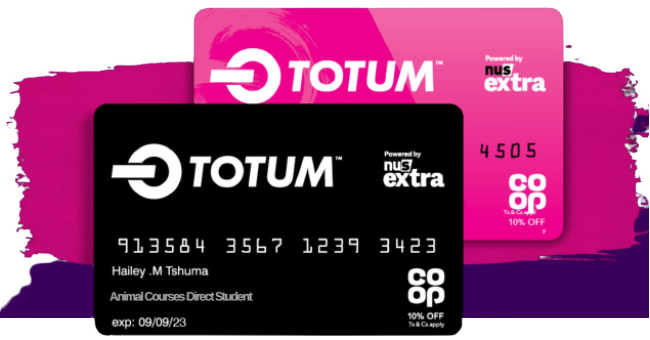 GET YOUR NUS EXTRA/ TOTUM CARD
All students who complete qualifications from level 3 or above are eligible for the NUS extra / Totum Card, which gives you access to over 200 UK student discounts with brands like Co-op, Amazon and ASOS. Apply and find out more at https://www.totum.com/