May Sale - 40% off all courses with code MAY22
Level 3 Diploma in Assistance Dog Training
| | |
| --- | --- |
| Ofqual Code | 603/5219/X |
| Qualification Level | 3 |
| Guided Learning Hours | 356 |
| Study mode | Online |
| Award type | Diploma |
| Webinars | As part of this qualification, we include online Webinars |
Click below to download our guide to Assistance Dog Training
download our guide to assistance dog training
Unit 1
Communication and canine body language
This unit explores the body language of both dogs and humans involved in training. Learn about the stress in canines and how to spot the signs of stress.
Unit 2
Care of canines
This unit studies the care and welfare of dogs, including health, handling, nutrition and the care of dogs in kennels. Learn about care routines, appropriate canine handling methods, canine enrichment, exercise and nutrition. Learn how to reduce and manage stress for dogs in kennels and foster homes.
Unit 3
First aid
This unit explores the objectives and rules of first aid and what should be included in a canine first aid kit. Learn methods of improvising items such as muzzles, stretchers and splints and how to carry or restrain injured animals. This unit also includes information about how to carry out health checks on dogs.
Unit 4
Behaviour and influences
Learn about the causes of the most common canine behaviour problems and how to solve them. Students will explore recent research and development in dog behaviour and expected behaviours for breeds.
Unit 5
Dogs and the Law
Learn about the laws surrounding dogs and disability. This unit includes information about disability and accessibility laws as well as custodianship as opposed to ownership in legal terms.
Unit 6
Disabilities
Learn about different types of disabilities relevant to working as an Assistance Dog Trainer. Learn how disability affects training and how to train for the individual. This unit also contains information about the human-animal bond.
Unit 7
Dog Training
This unit studies how dogs learn and how to motivate dogs to learn. Learn about adaptability, including multiple handlers and environmental changes. Learn about marker training, recall, natural dog behaviours, play styles, positive reinforcement and enrichment techniques.
Unit 8
Managing Volunteers
Learn how to manage volunteers as an integral part of the Assistance Dog Training process.
Learn how to train volunteers when fostering dogs. Gain an understanding of the client matching process.
Unit 9
Puppy Development and Behaviour
Learn about the behaviour of puppies, including how to manage behaviour and training from a young age.
Learn how to rectify behaviour issues and how to habituate puppies to prevent problems.
Unit 10
Assessment of the Needs of the Dog
Learn how to assess dogs' support needs and how to interpret formal reports concerning clients and dogs.
minimum student age: 16 years
Online Webinars
Online training negates the need for travel or overnight accommodation in many cases and also allows access to overseas students.
The teaching for this unit ensures your learning meets the assessment criteria for the qualification.
You will still learn skills that will enable you to:
recognise the emotional state of canines
prepare a dog for Assistant Dog Trainer work
apply a harness and lead using force and fear free methods
use clicker/marker training with dogs
use force and fear free methods at all times
Assistance Dog Trainer Qualification
This unique qualification includes:
Origins of this sector and how it has evolved.
The everyday work of the assistance dog.
The selection, development and training of assistance dogs.
The profile and personal attributes required, including how to select the assistance dog organisation best suited to the individual.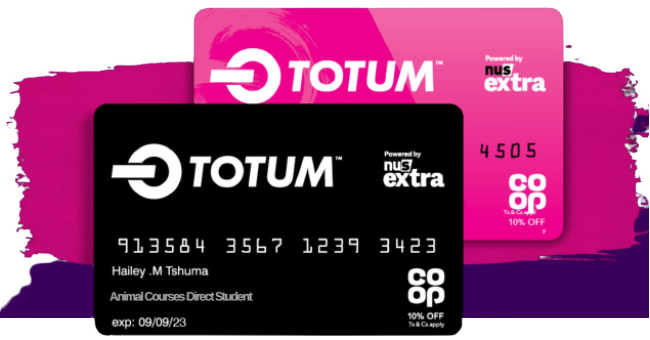 GET YOUR NUS EXTRA/ TOTUM CARD
All students who complete qualifications from level 3 or above are eligible for the NUS extra / Totum Card, which gives you access to over 200 UK student discounts with brands like Co-op, Amazon and ASOS. Apply and find out more at https://www.totum.com/