SUMMER SALE - 40% off all courses with code AUG22 - Ends Friday 12th
Level 2 Diploma Veterinary Nursing Assistant
| | |
| --- | --- |
| Ofqual Code | 603/5172/X |
| Qualification Level | 2 |
| Award Type | Diploma |
| Guided Learning Hours | 157 |
| Credits | 27 |
| Study Mode | Online |
| Start Date | Anytime |
| Enrolment will be valid for | 18 months |
| Entry Criteria | Open to anyone over age 16 |
| Assessment Method | Variety of in-depth assessments for each unit |
| Awarding Organisation | OCN West Midlands |
Click Below To Download Our Veterinary Nursing Assistant Guide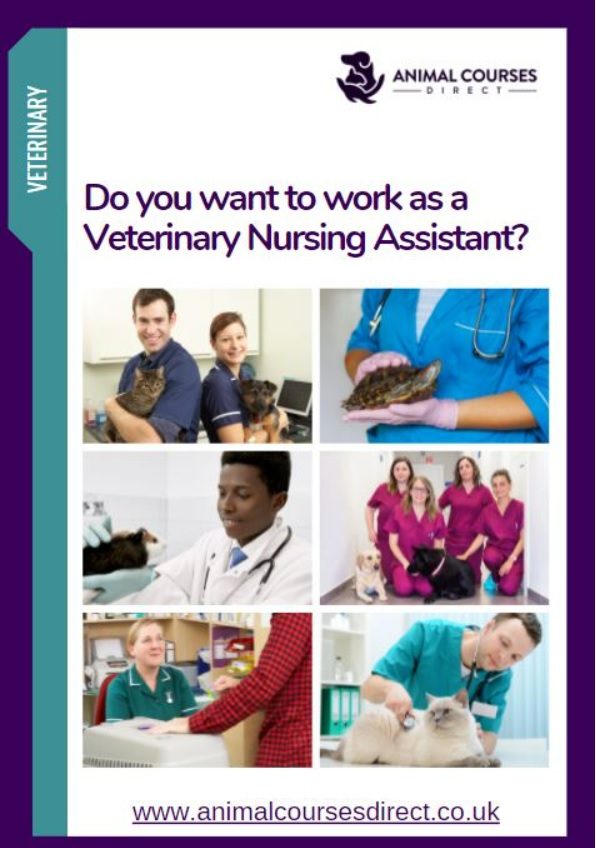 Unit 1
Principles of Animal Health
This unit explores the terminology commonly used in veterinary practice and how this relates to a range of species. Students will learn about the signs of normal and abnormal health in dogs, cats, rabbits, guinea pigs, hamsters, lizards, snakes and tortoises and how to ensure good health and carry out routine health checks.
Unit 2
Principles of Body Language and Behaviour
Correct handling and restraint techniques during veterinary procedures are essential to reduce stress for domestic mammals and reptiles. Students will learn how to recognise and manage stress and fear when handling a variety of companion animals.
Unit 3
Principles of Hygiene, Cleaning and Disinfection
High standards of cleaning and hygiene in an animal nursing environment are essential to prevent the spread of disease and infection. Students will learn about infectious diseases commonly seen in domestic mammals and reptiles and the importance of maintaining a clean environment. Learn the difference between disinfection and sterilisation, and understand the safe use of cleaning and disinfection chemicals. Learn how to follow a cleaning protocol with a thorough understanding of areas to be cleaned and their level of infection risk. This unit also contains information about the equipment sterilised in a veterinary practice, waste disposal methods, how to reduce waste in an animal nursing environment.
Unit 4
Reception and Administrative Duties in a Veterinary Practice
This unit explores the structure of a veterinary practice and students will learn about the roles and their tasks.
Students will learn about:
*The services provided in a veterinary practice including the referral process and the promotion and marketing of veterinary services.
*The professional standards and requirements in a veterinary environment
*The importance of health and safety in the veterinary workplace.
*How to deal with various clients including, different methods of client communication, registering a new client, making appointments, answering phones, taking payments, dealing with difficult or sensitive situations and the importance of client confidentiality.
Unit 5
The Pharmacy in a Veterinary Practice
This unit explores the workings of the veterinary pharmacy, including stock control, safe and secure storage of medicines, waste disposal and the importance of adherence to protocols.
Students will learn about veterinary medicines and gain an understanding of each stage of the medicines management pathway, including prescribing, dispensing and administration.
Unit 6
Euthanasia and Bereavement
Students will gain an understanding of the reasons for euthanasia and the circumstances when euthanasia may be required. Students will learn how the euthanasia process is carried out and the options for the disposal of a deceased pet. Students will gain an understanding of the stages of grief and be able to recognise each of the stages.
Unit 7
Principles of First Aid
This unit explores the principles of first aid and companion animal veterinary emergencies. Students will learn the importance of communication within the veterinary team and how to support a client during the emergency. This unit also includes information about the legislation involved in first aid treatment, how to recognise a veterinary emergency, the information required when dealing with an emergency call and how to treat common injuries.
Unit 8
Veterinary Instruments
Students will learn how to identify the instruments used for routine surgeries such as castration, spay and tumour removal. This unit also covers the correct care, cleaning and storage of veterinary instruments as well as packaging and sterilisation.
Unit 9
Care of Wildlife in Veterinary Practice
Veterinary staff frequently deal with various injured or sick wildlife. Students will learn about the most commonly treated British wildlife including garden birds, hedgehogs, rabbits, badgers, foxes and deer.
Gain an understanding of the obligations to treat wildlife and the limitations to this treatment. Students will learn about the options available for further treatment and rehabilitation of wildlife if treatment is beyond the expertise of general practice.
Unit 10
Practical
Students will find their own practical placement
---
Course Options
Self-Paced Online Learning With Tutor Support
Access your course materials immediately
Tutor support via our market-leading platform
Study around existing commitments
Progress as quickly as you'd like
Tailored individual learning plan to help you succeed
Engaging content; from videos to interactive quizzes
Industry-leading 14 days marking turnaround
Self-Paced Online Learning With Tutor Support PLUS On-Demand & Live Classes
Live classes are scheduled between 10am to 8pm - days of the week vary (to include weekends)
Access to our video library of previous lectures available on-demand
Interact with your tutors directly during your class
Take live classes multiple times or access recordings as you like
Tutor support via our market-leading platform
Study around existing commitments
Progress as quickly as you'd like
Tailored individual learning plan to help you succeed
Engaging content; from videos to interactive quizzes
Industry-leading 14 days marking turnaround
---
Veterinary Nursing Assistants, the next step after qualifying.
The Next Step
Those who have successfully completed the
Level 2 Diploma Veterinary Nursing Assistant qualification
are suited to work in many animal care environments from Veterinary practices to pet shops and animal charity hospitals and rescue homes. These careers can be incredibly fulfilling and rewarding for anyone who wants to work hands-on with animals. You may be able to proceed to the RCVS Level 3 Diploma in Veterinary Nursing. In doing so you can take your veterinary nursing career to the next level and gain even more knowledge for a top position. Ultimately this can lead to a full professional position as a Veterinary Nurse.
Opportunities Are Wide Open
This Ofqual regulated qualification is the perfect entry point providing both practical experience and theory for those eager to further their career as a veterinary nurse. If, at the end of the qualification, the student decides that veterinary nursing is not the career that they wish to progress to, they will still have gained valuable regulated training. This will enable them to work within other areas of veterinary practice such as veterinary kennels/wards and veterinary reception. Their experience will also allow progression in other sectors of the animal industry, such as pet stores, boarding kennels or animal charities.
The Level 2 Veterinary Nursing Assistant is a regulated qualification recognised by Ofqual.
Information about Practical Placements:
You will need to find a placement within a registered Veterinary Practice, or an animal establishment that has an element of veterinary care. However, this does not need to be an RCVS Training Practice, it needs to be a place where you will be supervised by a qualified Veterinary Nurse or Vet; this includes private practices, animal charities, zoos and some animal care businesses.
Your supervisor will not be responsible for assessing your practical evidence, this will be completed by your course Tutor via evidence provided (this can be written, photographic or video evidence, or a mixture of all 3 - full instruction will be provided during the qualification)
You will be responsible for managing your evidence gathering to ensure all practical assessment criteria is covered with your supervisor signing it off to agree your competence.
All practical criteria as outlined in the
Once you have enrolled on the course
[EH1]
must be covered during your practical placement. However, there is no set number of hours that you will need to attend your placement. You may want to complete this as a block placement over a number of weeks, or you may prefer to attend for a set number of hours per week to suit your schedule or to fit in with the placements availability.
Once you have enrolled on the qualification, please let us know if you would like us to provide you with a letter for use when approaching suitable placements
*You will have access to the course for 18 months only, after which, you can purchase extensions.
Veterinary Nursing Assistants Qualification, an entry into Veterinary Nursing
This qualification facilitates student further progression following a career in animal care or Veterinary Nursing, based within a Veterinary Practice. It provides learners with the information required to play a valuable support role to qualified veterinary staff and to assist owners in the correct management of their companion animals. It is a theory and practically-based qualification that has the aim of preparing a student for the rigour and level of demand required for the Veterinary Nursing Diploma.
What You Will Learn
Students learn a range of skills and develop their knowledge in a variety of different areas. This includes discovering how to manage and maintain accommodation for animals, including how to feed and water animals to ensure that they get the care they need. Learn how to provide basic treatments that animals often need including typical healthcare treatments. Gain practical experience with a range of routine procedures to make sure that you are fully equipped to help animals in your care. It is crucial that those aiming to work in veterinary medicine understand the anatomy and physiology of animals. There is a range of reasons why this information will be necessary. Through the units, you will learn how to handle and restrain animals the correct way based on their anatomy and physiology. It's important that animals are restrained without injury. Infection is a major concern whenever an animal is brought into a veterinary practice with an injury. Learn about the principles of infection control and how to manage infections.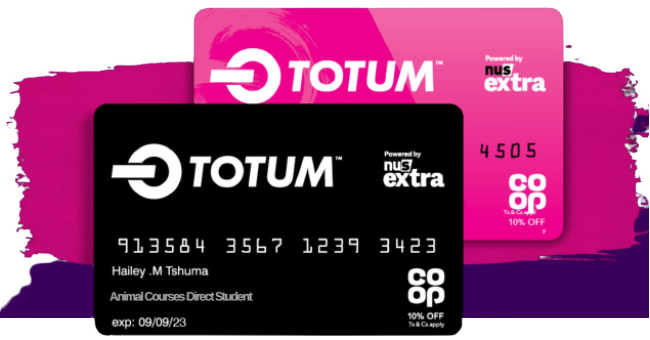 GET YOUR NUS EXTRA/ TOTUM CARD
All students who complete qualifications from level 3 or above are eligible for the NUS extra / Totum Card, which gives you access to over 200 UK student discounts with brands like Co-op, Amazon and ASOS. Apply and find out more at https://www.totum.com/