BLACK FRIDAY sale extended until Thursday 30th! Up to 50% off selected courses – Enrol today!
AIM Qualifications Level 3 Diploma in Canine Massage (Top up for Veterinary Nurses, Veterinary Surgeons, and Veterinary Physiotherapists)
| | |
| --- | --- |
| Ofqual Code | 610/0010/3 |
| Guided Learning Hours | 620 |
| Start Date | Anytime |
| Enrolment will be valid for | You have 24 months to complete your course. |
| Study mode | Online & Practical |
| Award type | Diploma - Learners can expect their certification within 6 months of completing the course, following the (EQA) External Quality Assurance of assessment. All course fees, inclusive of all payment plans including our Premium Credit Limited option, must be settled before certification can be ordered. |
| Assessment Method | You will be assessed via a combination of video and photo submissions, your supervisor will also need to provide witness testimonies. |
| Qualification Level | 3 |
| Practical Placement (Mandatory) | Learners will need to complete 11 days of practical training at a Woozelbears centre. This is split into 2 and 3 day blocks. Learners will also have to provide their own case studies. The placement centre is located in Warwickshire. Learners must complete the first unit of their course to access the first set of placement days. Learners must complete all theory elements within the course before they can complete the remaining placement days. |
| Entry Criteria | Learners should be aged 16 or above and will need to provide evidence of Vet, Vet Physio or Vet Nurse qualifications in order to enrol on this course. |
| Credits | 84 |
| Post Completion | Learners can become member of the Animal Health Professions' Register (AHPR) following completion of this course. |
Course Description:
This comprehensive Level 3 Diploma in Canine Massage (Top up for Veterinary Nurses, Veterinary Surgeons, and Veterinary Physiotherapists) has been specifically designed for Veterinary Professionals, including Veterinary Surgeons, Physiotherapists, Nurses, and Technicians, who wish to expand their medical training and continue their professional development.
This qualification covers everything you need to know to include therapeutic canine massage as part of your skill set. This qualification has been designed to provide learners with a route into professional canine massage, working as part of a multidisciplinary team to provide therapeutic massage for a range of canine conditions. Or, alternatively, to set up your own canine massage therapy business.
Over the course of 12 in-depth units, you will study common orthopaedic and neurological conditions that present for massage treatment and therapeutic massage techniques, along with business management and customer care.
The qualification includes a practical placement where you can put your learning into practice as you conduct assessments for canine patients and perform appropriate massage techniques. The practical placements are available in Warwickshire.
You will have access to the course for 2 years.
Unit 1
Introduction to Canine Massage
Learners will explore basic massage techniques and when to use them. Learners will study the intended outcomes of massage treatments and learn about the term 'fascia' in relation to massage treatment.
Unit 2
Handling Canines
Learners will understand how training methods influence canine handling skills and will understand canine handling techniques.

Unit 3
Canine Behaviour in Therapeutic Settings
Learners will understand canine communication and how pain and stress can affect canine behaviour.

Unit 4
Canine Assessment
Learners will explore the importance of assessment prior to massage treatment. This unit looks at normal and abnormal posture and gait patterns in a range of canine breeds. Learners will also study muscle testing and how to assess muscle mass.

Unit 5
Tissue Healing
This unit covers the tissue healing process and the timing of massage treatment in relation to tissue healing. Learners will also study pain management in relation to massage treatment.

Unit 6
Common Orthopaedic and Neurological Conditions Presented for Massage Treatment
This unit looks at the orthopaedic, neurological and common medical conditions referred for massage treatment and how to manage these conditions.

Unit 7
Aquatic Massage
Learners will study the properties of water as they relate to aquatic massage and the equipment used in aquatic massage. Learners will look at how to apply aquatic massage techniques to patients and post-session treatment for aquatic massage.

Unit 8
Advanced Massage and Soft Tissue Techniques
Learners will understand a range of advanced massage techniques suitable for use with canine patients and will understand how massage techniques can be used for canine athletes.

Unit 9
Professional Practice and Multidisciplinary Approach for Massage
This unit looks at the role of the Multi-Disciplinary Team (MDT) in relation to massage treatment. Learners will look at the importance of professional development and professional behaviour in the workplace. The unit also looks at legislation and health and safety requirements in relation to massage treatment.
Unit 10
Customer Service
This unit looks at the principles of customer service. Learners will understand how to add value to customer relationships and exceed customer expectations. The unit also covers how to handle a customer complaint.
Unit 11
Business Management for Canine Massage Therapy
This unit covers how to create and run a company. Learners will explore the concept of branding, how to manage business accounts and the importance of marketing.
Unit 12
Practical Application of Massage Treatments
This unit covers learning on assessing patients prior to massage treatment and handling canines in a massage setting. Learners will study how to administer massage treatments and canine sports massage. Learners will also learn how to complete massage treatment documentation.
The Level 3 Diploma in Canine Massage (Top up for Veterinary Nurses, Veterinary Surgeons, and Veterinary Physiotherapists) includes 11 days of hands-on practical training where learners will have the opportunity to assess and conduct massage techniques on a range of canine patients.
The practical placements are organised through Woozelbears and are located in Warwickshire.
Woozelbears is an established and well-respected small animal hydrotherapy and dog grooming company. Their centres have top-of-the-range equipment and teams of highly qualified personnel. There is a maximum of 4 students booked per placement ensuring a quality learning environment.
The training days are split into manageable blocks and can be booked at different points throughout the year, according to availability.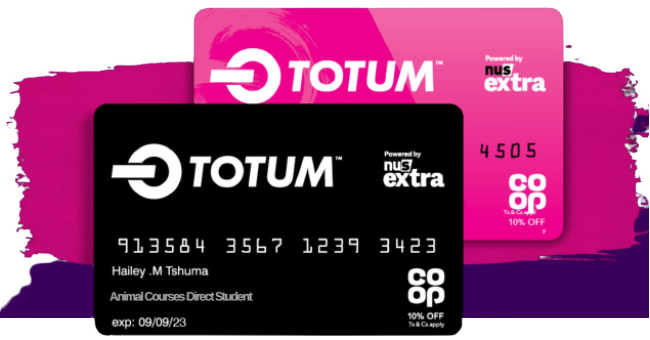 GET YOUR NUS EXTRA/ TOTUM CARD
All students who complete qualifications from level 3 or above are eligible for the NUS extra / Totum Card, which gives you access to over 200 UK student discounts with brands like Co-op, Amazon and ASOS. Apply and find out more at https://www.totum.com/