May Sale - 40% off all courses with code MAY22
Level 3 Diploma in Dog Grooming and Salon Management
| | |
| --- | --- |
| Ofqual Code | 603/5945/6 |
| Qualification Level | 3 |
| Award type | Diploma |
| Guided Learning Hours | 403 (including 30 days of practical training) |
| Study mode | Online theory and 30 days practical. Practical booked in 1 week blocks. Own grooming equipment required. |
| Location of Practical Placement | Winsford, Cheshire. Scroll down page for more details of practical. |
| Start Date | Anytime |
| Entry Criteria | Open to anyone age 16 or over. Learners are required to have a good understanding of the English language and have good physical mobility and physical fitness. |
| Credits | 40 |
| Enrolment will be valid for | 2 years |
| Assessment Method | Assessment will take the form of a range of in depth theory assessments for each unit, as well as practical training assessments. |
| Units | 8 |

Click below to download our guide to Dog Grooming and Salon Management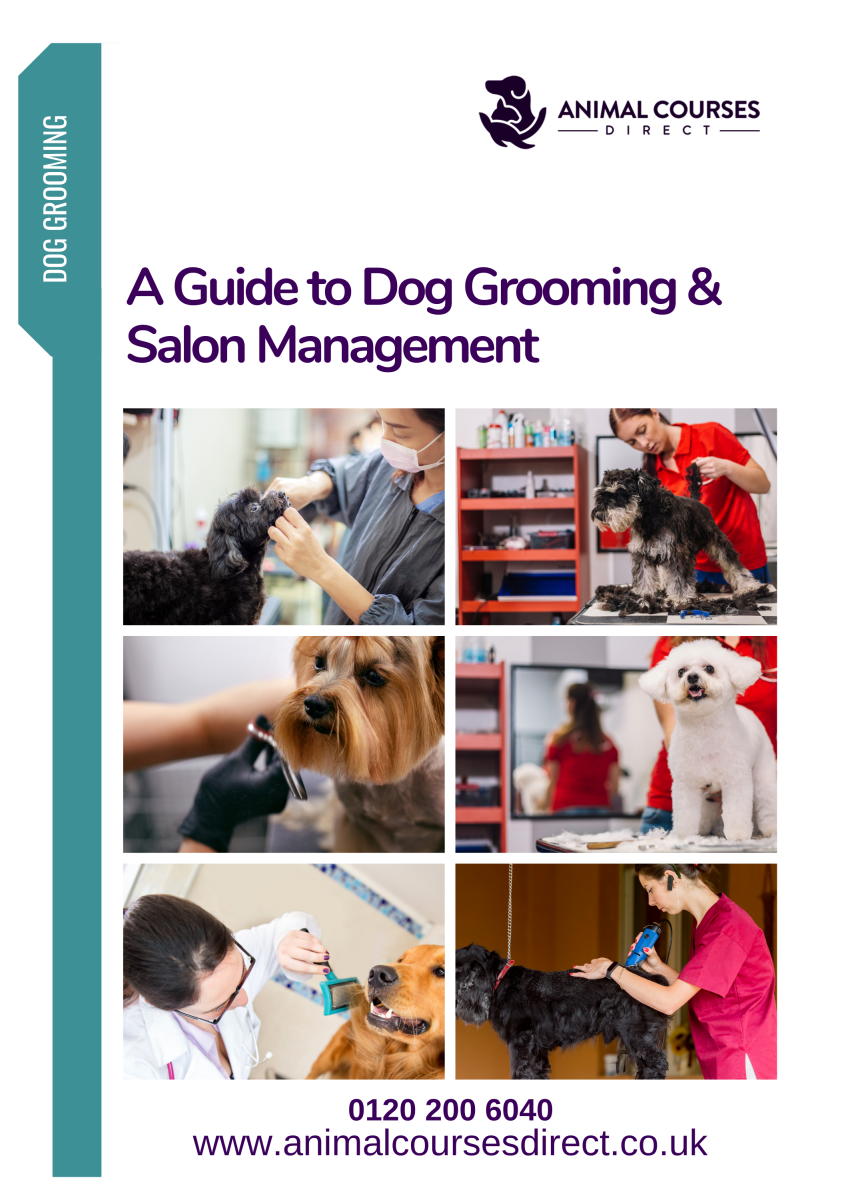 Download guide
Course Summary:
This iPET Network Level 3 Diploma in Dog Grooming and Salon Management is a unique and highly sought after Ofqual regulated qualification. This qualification offers learners an opportunity to gain a broad range of skills and techniques for working as a professional in the dog grooming sector.
This comprehensive
qualification
provides 8 units of in-depth theory and 30 days of practical dog grooming training developed by iPET Network. Learners will be working alongside dog grooming professionals and discover real-life experiences inside a dog grooming salon.
Learners will gain hands on experience grooming a variety of different dog breeds with different coat types, to fully prepare them for a career as a dog groomer. This qualification also covers the theory of managing a small dog grooming business.
Unit 1
Health and Safety in a Dog Grooming Environment
The aim of this unit is to provide the knowledge, skills and understanding of how to promote and maintain the health and welfare of animals following health and safety and animal welfare requirements.
Learners will be able to recognise welfare issues and be able to take specific measures to adjust the environmental conditions.
Unit 2
Promote the Welfare of Dogs conforming with Relevant Legislation
This unit explores the importance of canine welfare and the relevant canine legislation essential to be able to work in a dog grooming environment. Learn how to provide and maintain care for animals in a way which is consistent with relevant legislation, ensuring minimal stress and risk of injury in the grooming environment. Identify and record welfare concerns that might indicate the following: Disease, disability, disorders, pest infestation, trauma and stress
Learners will be able to identify two types of zoonotic diseases and the precautions required to take to maintain safety for yourself and dogs. Carry out actions to promote animal health and welfare, covering: Preventative care, environmental adjustment and the changing of feed or water provision.
Unit 3
Customer Care and Managing Complaints
This unit explores how to navigate the world of customer service and how to deal with a range of different clients (dogs) and customers (owner/caregiver).
Learners will gain an understanding of how to care and manage customers in a professional manner and meet relevant legislation.
Learn how to manage customers in a dog grooming environment that meets relevant Health & Safety legislation and organisational requirements. Understand the importance of creating a positive first impression, customer loyalty, customer confidence and how this can be achieved. Learn how to deal with customer complaints and identify the types of problems that may occur with customers including how to find solutions for customers when dealing with complaints to maintain customer loyalty and confidence.
Unit 4
Assess and Plan Dog Grooming Styles and Maintenance of Equipment
This unit explores the importance of essential equipment maintenance and the steps leading up to dog grooming.
Learn how to assess and plan the styling requirements and appearance of a dog and plan the work according to the client requirements or breed standard styling, considering the coat condition and its individual appearance for a range of dog breeds. Learn how to plan required styling methods to cover: Head, ears, body, legs, feet and tail. Gain an understanding of the types of problems which may occur during the grooming process and how these should be dealt with. Learn how to prepare, maintain and use relevant equipment and record equipment used including selecting the appropriate tools and equipment for work.
This unit also explores how to work in a way that is consistent with relevant legislation, codes of practice, how to ensure work is carried out in a manner which minimises environmental damage and how to manage and dispose of waste in accordance with legislative requirements.
Unit 5
Health Checking, Handling and Canine Behaviour
This unit explores the principles of dog handling and canine behaviour, including how dogs communicate with body language, vocalisations and behaviour and how to identify signs of stress.
Learn how to carry out a full health check with a good understanding of the structure of a dog. Learn how to identify possible breed defects that could affect the health of a dog throughout the grooming process and the adjustments that can be made. Learn how to influence canine behaviour and adapt handling techniques for handling, restraining and controlling a dog, including the correct method of moving joints.
The unit also explores how to monitor and report the good and poor signs of a dogs appearance and physical condition including: Gums, teeth, nose, eyes, ears, skin/coat, limbs / movement, genital area, bodily functions, body condition, social interaction and behaviour. Learn about the signs, problems and treatment caused by ectoparasitic and endoparasites and how to prevent further infestation including communication with the owner.
Unit 6
Prepare, Style and Finish a range of Dog Breeds
This unit explores how to effectively groom a variety of dog breeds, from preparation to styling and finishing.
Learn how to use appropriate techniques to handle and restrain a range of dogs with different temperaments during the preparation and styling and how to identify and reduce the health and safety risks to the dog and handler during the grooming process.
Learners will gain effective handling and restraining techniques whilst carrying out a range of tasks using a variety of equipment including how to select and use techniques and equipment appropriate to the coat type to remove knots and excess hair, prior to bathing. Learn how to carry out bathing techniques using appropriate shampoo for dog's coat types and condition of the coat and how to perform appropriate drying techniques for dog's coat types.
The unit also includes the styling requirements in accordance with the breed pattern and client requirements. (to cover a range of coat types)
• Head / Face (clean face e.g. poodle, clean head e.g. spaniel, eyebrows, beard e.g. Schnauzer and round e.g. Lhasa Apso)
• Ears (clean, natural, spaniel. e.g. breed standard, blended)
• Body (skirt, tuck, clean)
• Legs (clean, feathered, furnishings, column
• Feet (round, e.g. Shih Tzu, Cat e.g. Spaniels, clean, natural)
• Tail (flag, carrot, e.g. West Highland Terrier, clean, blended)
Learn about the importance of discussing and following the client's requirements for styling and how to carry out styling and finishing techniques breed patterns and client requirements. Style dogs in accordance with: The agreed plan, coat type, client requirements, breed pattern, health and temperament.
Learners will groom at least 20 dogs to include a minimum of 10 different breeds, covering the 6 coat types. Range of coat types will include: Double coat, wool mix coat, wire coat, silk coat, wool coat as well as short and smooth.
The unit includes information about how to assess a dog for hand stripping and the hand stripping process.
Unit 7
Canine Emergency First Aid
This unit explores the vital area of canine emergency first aid, including recognising emergencies, administering first-aid and the management of canine behaviour in first-aid situations.
Learn about requirements of canine emergency first aid, who can administer canine emergency first aid and why canine emergency first aid is important.
Learn how to record the pulse rate of a live dog, record the respiration rate of a live dog, conduct CPR on a CPR mannequin, dress and treat wounds, classify different types of wounds, apply a dressing on a dog, classify and describe different types of fractures, understand choking, stings and poisoning and be able to give the necessary treatment, how to perform the abdominal thrusts on a dog, how to treat insect stings and reptile bites, how to identify common household poisonous substances, the clinical signs, emergency treatment and prevention of poisoning in a dog, the signs and treatments of hyperthermia, hypothermia and water inhalation, the signs and treatment of a dog having a convulsion, the clinical signs, treatment and prevention of gastric torsion or gastric dilation (bloat), the different types of burns, the clinical signs and treatment required for electrocution.
The unit includes information about what is required in a canine emergency first aid kit and how to communicate in emergency situations.
Unit 8
Planning the Operation of a Small Canine Business
This final unit covers information on running a small-dog business – including setting up your business, running your business, business finance and marketing, as well as business operations.
Learn about the fundamental requirements of setting up a small canine business including the role of marketing in a small canine business, the financial requirements of running a small canine business and the costs involved with a small canine business and producing a financial budget.
---
30 Day Practical Training
This qualification includes practical training at a top-of-the-range COVID-secure dog grooming training school in Winsford, Cheshire UK.
During your 30-days of practical, you will be taught by highly experienced canine tutors.
This valuable hands-on training experience will help you learn the fundamentals of dog grooming, the correct health and safety procedures and the management of a dog grooming salon in a working environment.
Throughout your practical training, you will be observed, supported, and assessed by dog grooming professionals.
At the end of your 30-day practical training, you be a qualified dog groomer and have the theoretical knowledge to manage a dog grooming business.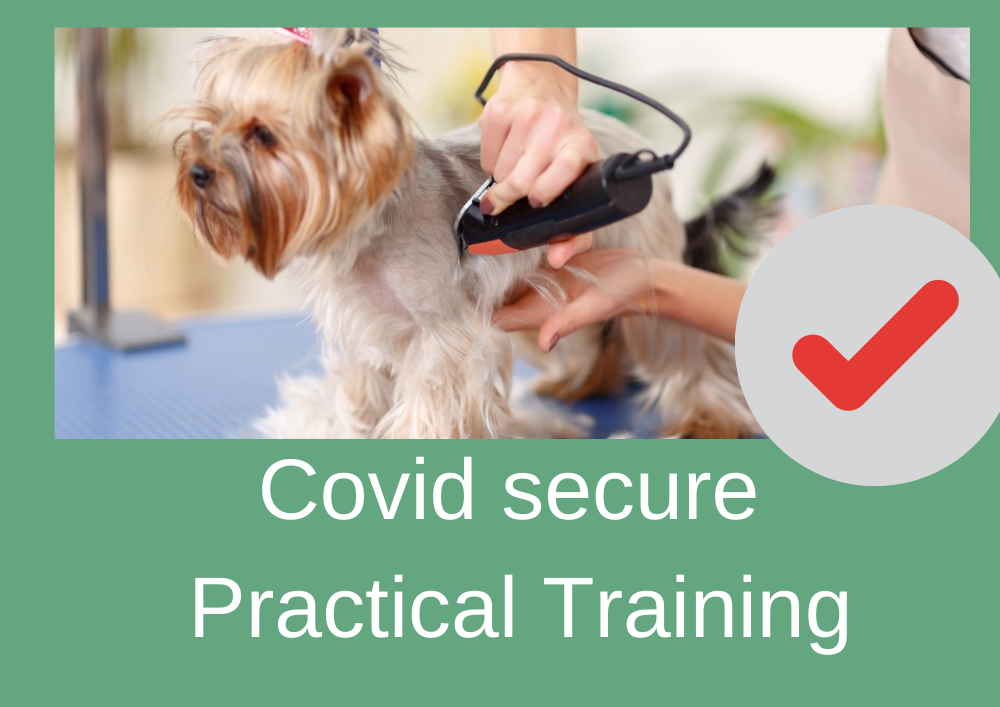 Please note that as a covid precaution, it is mandatory for learners to have their own grooming equipment when attending the practical training. A comprehensive dog grooming kit is available to purchase from our practical training provider for the amount of £450. Alternatively, learners can provide their own equipment. If you decide to provide your own equipment, our training provider will need to approve your equipment list to ensure it is suitable before you attend the placement.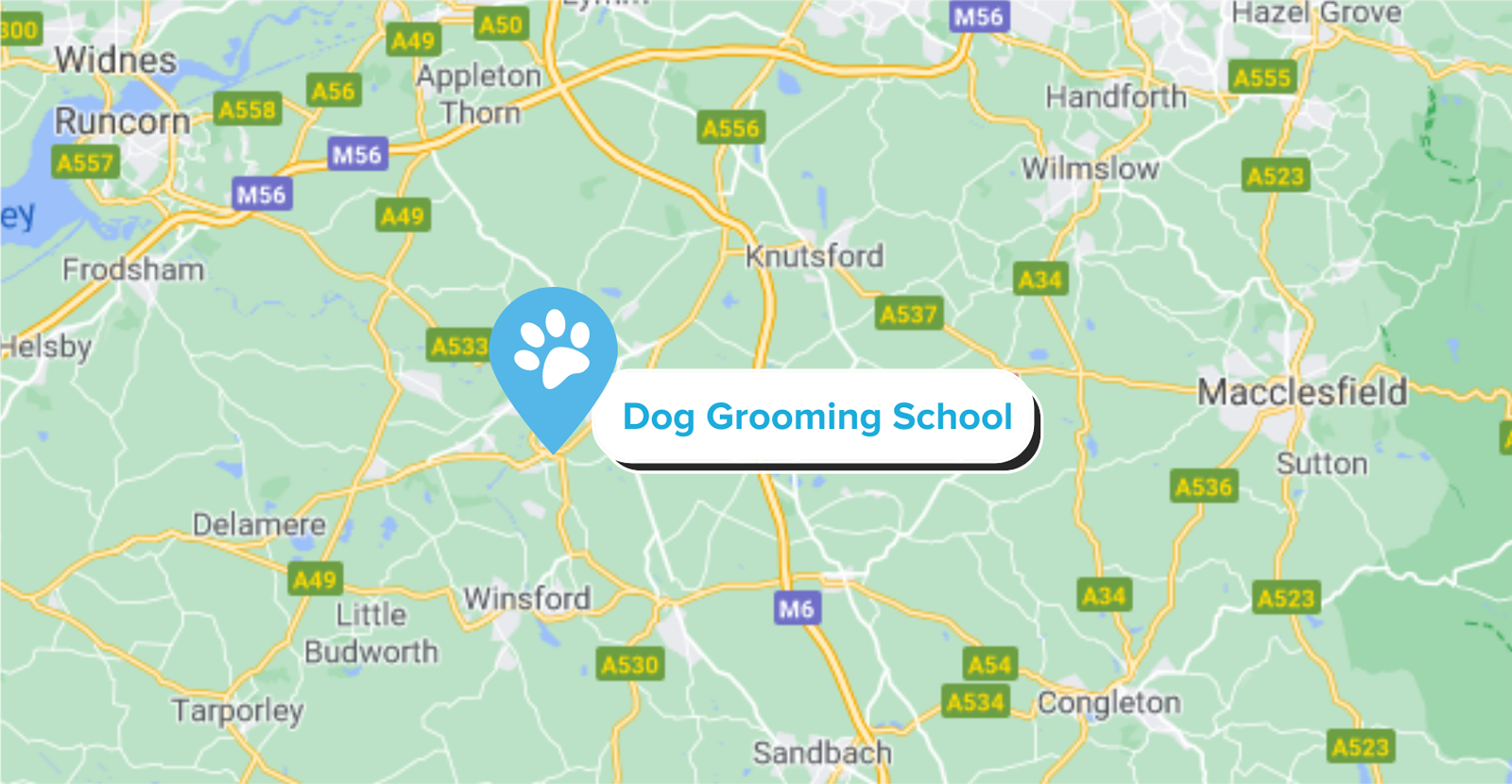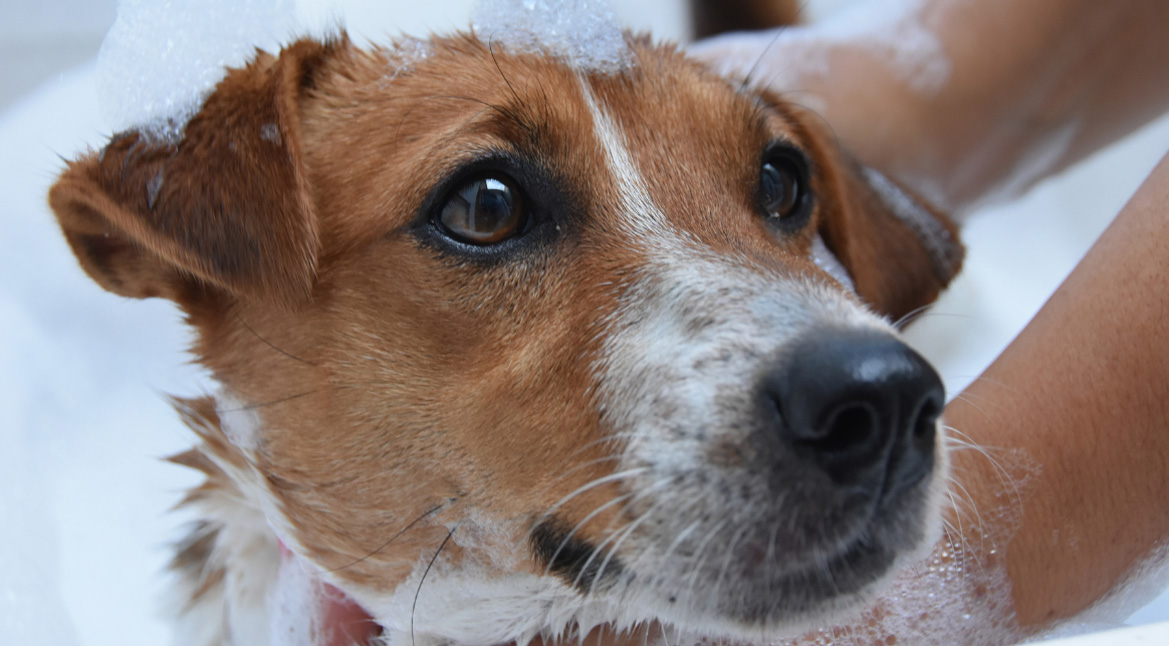 What you will study:
Through completion of this iPET Network Level 3 Diploma in Dog Grooming and Salon Management, learners will gain an understanding of the relevant canine welfare requirements, the required health and safety measures within a dog grooming environment, as well as skills in canine emergency first aid and an understanding of canine behaviour. Through the comprehensive practical training over 30 days, learners will be comfortable and confident in styling and grooming a range of different dog breeds. The theory aspect of the course is available online to start at any time and through the practical training, learners will groom a minimum of 20 dogs, ranging across 10 different breeds with different coat types.

Enquire about this Course
With the rapid increase of dog ownership, it's not surprising that careers working with dogs are increasing not only in demand but also in popularity. A canine career can take you in many directions including working as a Kennel Assistant, Kennel Manager, Dog Home Boarder, Day Care for Dogs, Dog Trainer, Dog Handler (including Fire service, Search and Rescue, Customs & Excise and Military), Assistance Dog Trainer, Dog Behaviourist, Animal Welfare Officer/Inspector, Dog Groomer, and Dog Walker.
Grooming is an important part of a dog's health and well-being. Brushing encourages a healthy skin and good growth of a new coat, as it stimulates the blood supply to the skin, removes dead hair and dirt and prevents matting. Every dog, regardless of coat type, size, breed, or age should receive regular grooming, and as many owners don't have time to properly groom their dogs themselves – dog groomers are in high demand for their services. Working as a dog groomer is rewarding as grooming can even prevent and alleviate canine suffering. Regular grooming can prevent problems such as excessive shedding and painful mats. It can help identify other problems, for example: sores, fleas, lumps, cuts, rashes, bad teeth and even some diseases/conditions etc, that may otherwise go unnoticed.
This iPET Network Level 3 Diploma in Dog Grooming and Salon Management provides learners with the necessary skills and tools to become a qualified dog groomer or open their own dog-grooming business. This Ofqual regulated and nationally recognised qualification demonstrates to employers that learners have the correct theory and practical training to start a career in dog grooming. This qualification has been expertly created specifically for anybody wishing to become a professional dog groomer, or who may already groom dogs but does yet not hold a nationally recognised qualification. Alternatively, the iPET Network Level 3 Certificate in Dog Grooming and Introduction to Styling and the iPET Network Level 3 Award in an Introduction to Dog Grooming, are alternative qualifications for those who want to explore a variety of hands-on experience and learning materials and are looking for shorter practical training.
For more information on canine careers, please see our Careers with Dogs page, or alternatively Contact Us to speak directly with one of our team who can advise you
Animal Courses Direct accepts no liability or responsibility for practical placements. Practical training is carried out entirely at the user's own risk and learners are required to sign our waiver form and obtain their own travel insurance as appropriate. Where a deposit is requested, this is non-refundable. Students are required to pay course fees in full prior to attending the practical placement. Practical placement dates may change and are subject to availability, please see our T&Cs.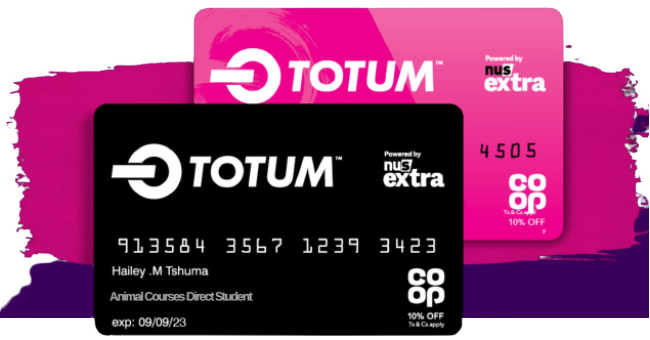 GET YOUR NUS EXTRA/ TOTUM CARD
All students who complete qualifications from level 3 or above are eligible for the NUS extra / Totum Card, which gives you access to over 200 UK student discounts with brands like Co-op, Amazon and ASOS. Apply and find out more at https://www.totum.com/