SUMMER SALE - 40% off all courses with code AUG22 - Ends Friday 12th
Level 3 Award in an Introduction to Dog Grooming
| | |
| --- | --- |
| Ofqual Code | 603/6031/8 |
| Qualification Level | 3 |
| Award type | Award |
| Guided Learning Hours | 55 hours (including 5 days of practical training) |
| Study mode | Online theory and 5 days practical. Practical booked in 1 week blocks. Own grooming equipment required |
| Location of Practical Placement | Winsford, Cheshire. Scroll down page for more details of practical. |
| Start Date | Anytime |
| Entry Criteria | Open to anyone aged 16 or over. Learners are required to have a good understanding of the English language and have good physical mobility and physical fitness. |
| Credits | 6 |
| Enrolment will be valid for | 1 year |
| Assessment Method | Assessment will take the form of a range of in-depth theory assessments for each unit, as well as practical training assessments. |
| Units | 2 |

What you will study
Through completion of this Ofqual regulated iPET Network qualification in Dog Grooming, you will gain an understanding of how to prepare, style and finish a variety of dog breeds and coat types. Learners will gain an understanding of both theory and practical skills in dog grooming, such as prepping, bathing, scissoring, clipping, styling, and nail trimming on a variety of different dog breeds. This theory aspect of this qualification is available to study online. Practical elements are covered over 5 intensive training days and accommodation is available nearby. The practical training provides learners with hands-on experience in preparing, styling, and finishing a range of different dog breeds.
Why Study Dog Grooming?
Dog grooming is a popular and highly rewarding career for anyone wishing to work hands on with dogs. There is an increase in demand for professional dog groomers as dog owners seek out professional dog groomers to cater to their dog's individual requirements. As well as being more comfortable, a regularly groomed dog will also look and feel happier with a healthy looking coat.

Click below to download our guide to Dog Grooming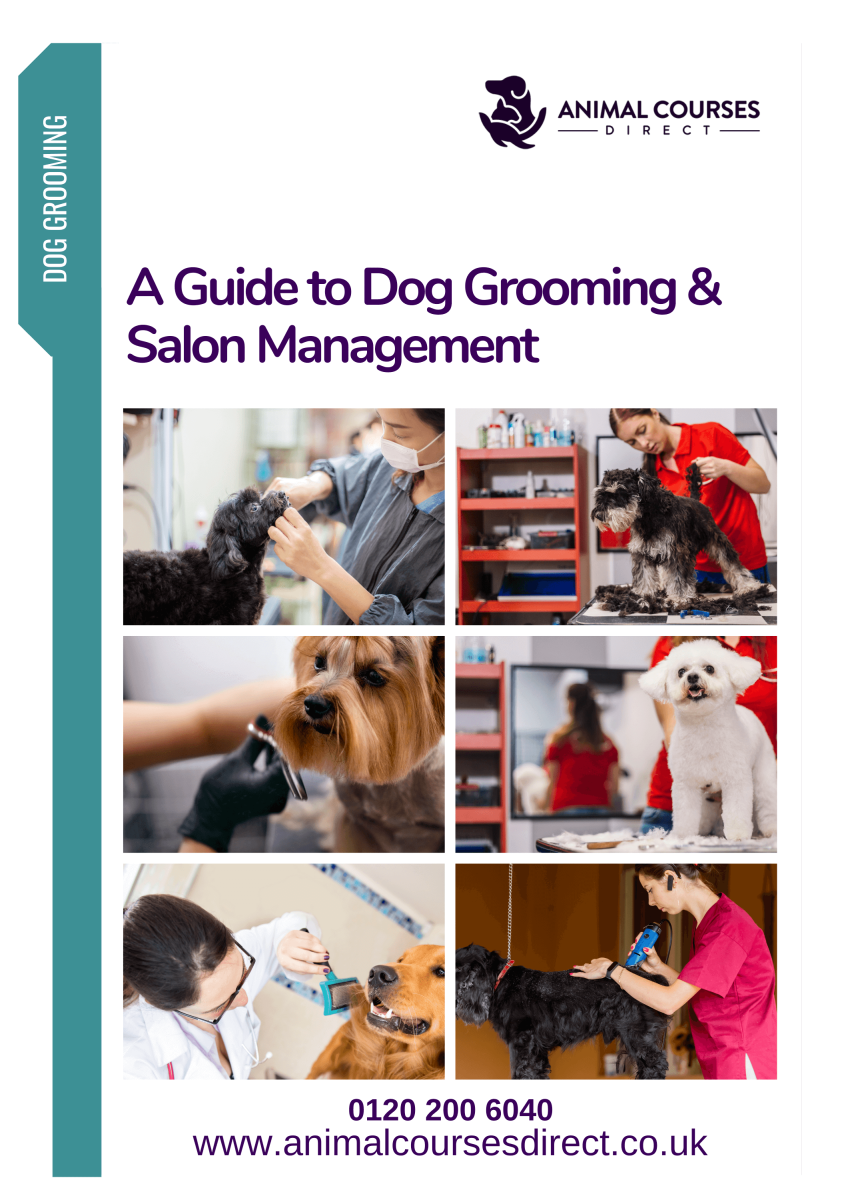 Unit 1
Health and Safety in a Dog Grooming Environment
This unit explores the essentials of health and safety in a dog grooming environment. Learners will gain the knowledge, skills and understanding in how to promote and maintain the health and welfare of animals while also considering health and safety for the dog and the dog groomer. This unit includes information to ensure that learners have an understanding of the relevant legislative requirements for animal welfare and that they are able to recognise welfare issues and take specific measures to improve and maintain a dog's environmental conditions.
Unit 2
Prepare, Style and Finish a range of Dog Breeds
This unit provides the learner with the skills to effectively groom a variety of dog breeds, from preparation to styling and finishing. Explore the appropriate techniques to handle and restrain a range of dogs with different temperaments during the preparation and styling. Learn about safe handling and restraining techniques whilst carrying out a range of tasks using a variety of equipment.
Learn how to remove excess hair, knots and matts before bathing with the appropriate equipment for a particular coat type. Explore bathing and drying techniques using appropriate shampoo and equipment for the dog's coat types and condition of the coat. Learn how to assess a dog for hand stripping and understand the bathing and hand stripping process.
This unit will include grooming for at least 3 dogs to include a minimum of 2 different breeds, covering the 2 coat types.
---
Course Options
Self-Paced Online Learning With Tutor Support
Access your course materials immediately
Tutor support via our market-leading platform
Study around existing commitments
Progress as quickly as you'd like
Tailored individual learning plan to help you succeed
Engaging content; from videos to interactive quizzes
Industry-leading 14 days marking turnaround
Self-Paced Online Learning With Tutor Support PLUS On-Demand & Live Classes
Live classes are scheduled between 10am to 8pm - days of the week vary (to include weekends)
Access to our video library of previous lectures available on-demand
Interact with your tutors directly during your class
Take live classes multiple times or access recordings as you like
Tutor support via our market-leading platform
Study around existing commitments
Progress as quickly as you'd like
Tailored individual learning plan to help you succeed
Engaging content; from videos to interactive quizzes
Industry-leading 14 days marking turnaround
---
5 Day Practical Training
Your practical training will be held at the state-of-the-art COVID-secure dog grooming training school in Winsford, Northwich UK.
During your 5-days of training, you will work alongside trained and highly experienced dog grooming professionals.
This unique hands-on experience will allow you to enhance your skill set and develop your grooming and styling techniques by practising on clients (dogs) in a safe dog grooming salon.
Throughout your practical training, you will be supervised, supported, and assessed by experienced dog grooming staff.
At the end of your practical training, you will have the confidence and expert knowledge to be able to apply for roles in the dog grooming sector.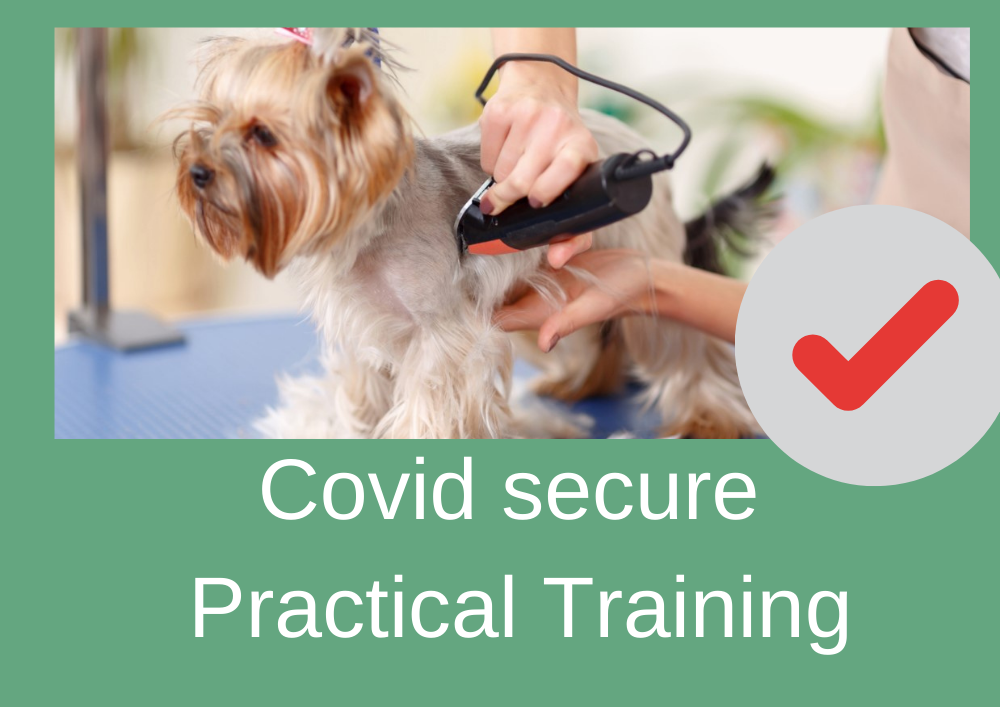 Please note that as a covid precaution, it is mandatory for learners to have their own grooming equipment when attending the practical training. A comprehensive dog grooming kit is available to purchase from our practical training provider for the amount of £450. Alternatively, learners can provide their own equipment. If you decide to provide your own equipment, our training provider will need to approve your equipment list to ensure it is suitable before you attend the placement.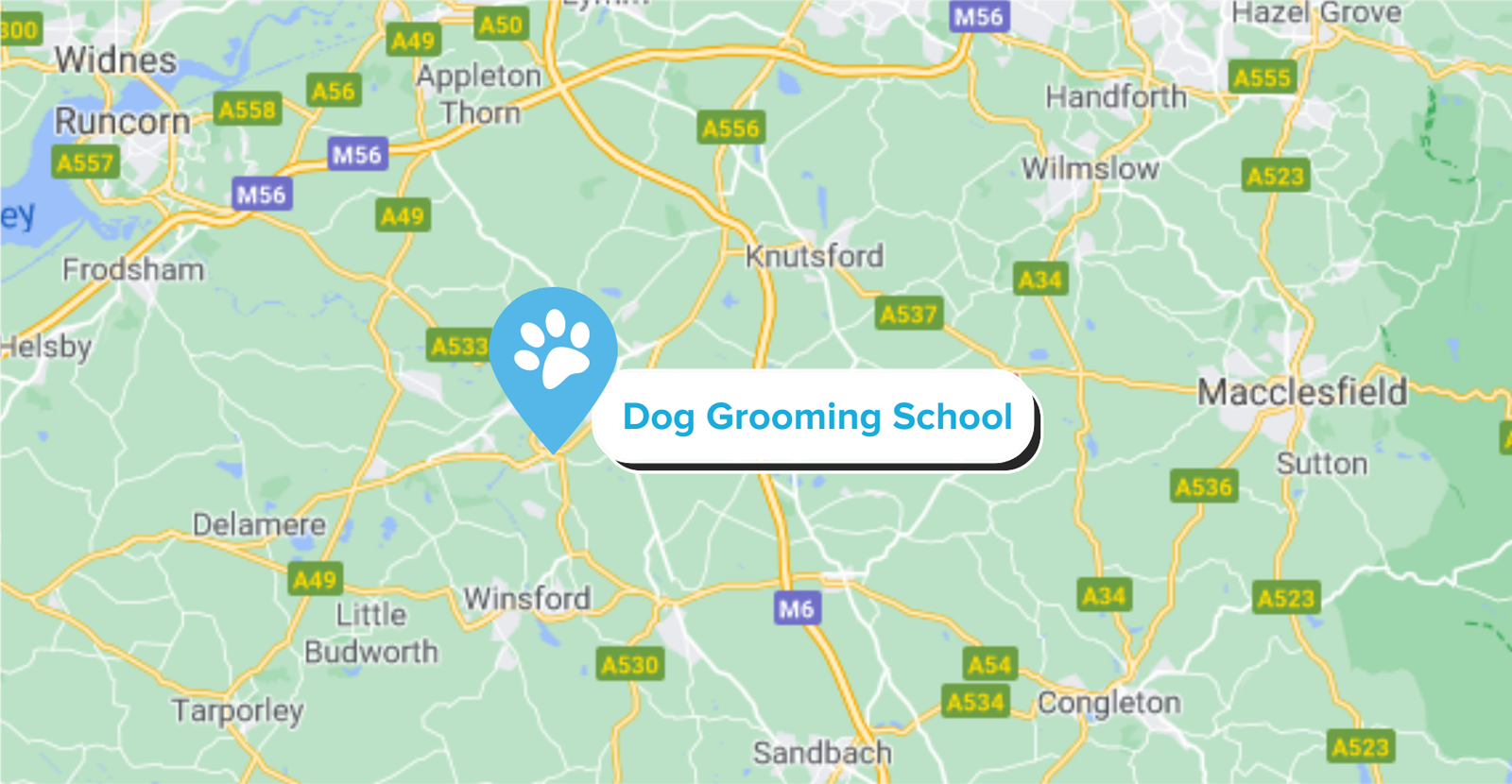 Career Progression
With over 1 in 4 UK households now owning a dog, it hardly comes as a surprise to hear that careers with dogs are increasing in popularity and there is therefore an increase in demand for dog groomers. Grooming is an essential part of a dog's well-being. Brushing encourages healthy skin and the successful growth of a new coat by stimulating the blood flow to the skin. It also removes dead hair, dirt, and can work to prevent matting. Every dog, regardless of coat size, type, breed, or age would benefit from and should receive regular grooming.
Working as a Dog Groomer is rewarding, as grooming can prevent and alleviate canine suffering. Consistent and regular grooming can prevent problems such as excessive shedding and painful mats. Additionally, it can help to recognise and locate other problems, for example sores, fleas, lumps, cuts, rashes, bad teeth and even some diseases/conditions etc, that may otherwise go unnoticed.
This Ofqual regulated qualification demonstrates to employers that learners have the correct theory and practical training to start a career in dog grooming. This qualification has been expertly created specifically for those wishing to become a professional dog groomer and it is also suitable for those who already groom dogs but don't yet not hold a nationally recognised qualification.
Alternatively, the Level 3 Certificate in Dog Grooming and introduction to Styling and the Level 3 Diploma in Dog Grooming and Salon Management are Ofqual regulated qualifications suitable for anyone looking for more in depth combinations of theoretical and hands-on experience in Dog Grooming.
For more information on Canine Careers, please visit our Careers with Dogs page, or you may like to Contact Us to speak directly with one of our team who can advise you on your career working with dogs.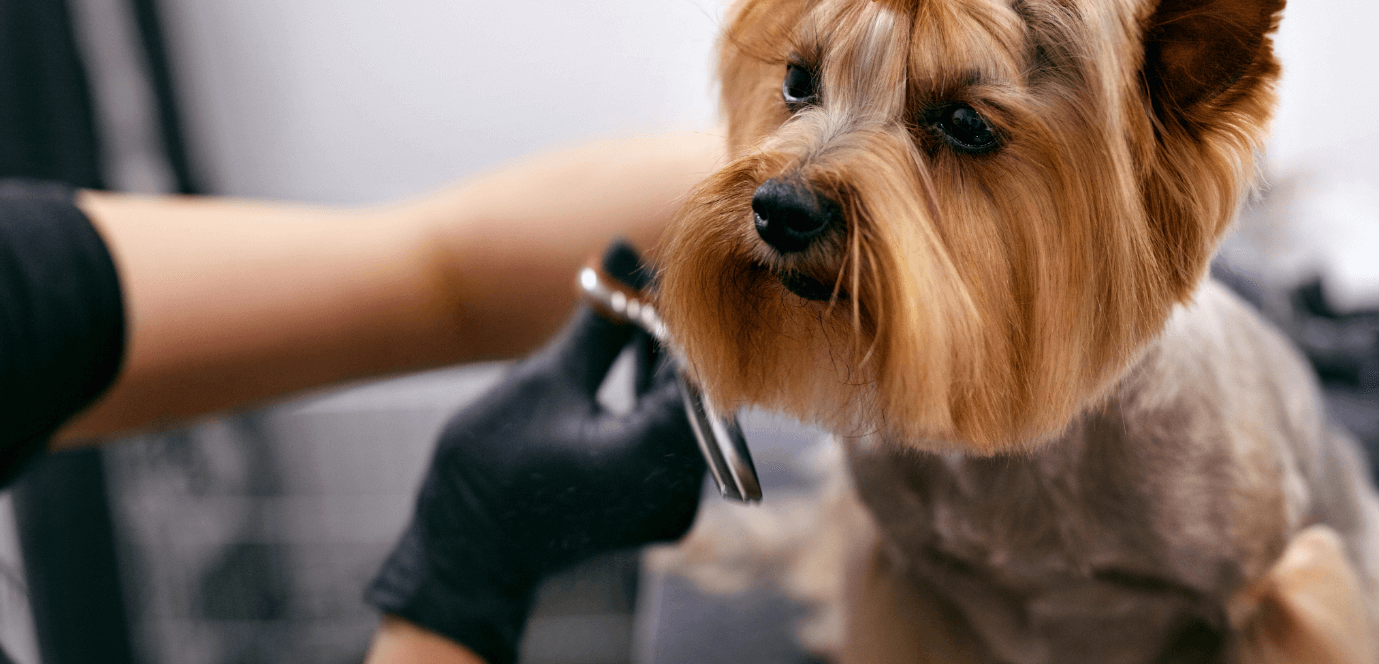 *You will have access to the course for 12 months only, after which, you can purchase extensions.
Animal Courses Direct accepts no liability or responsibility for practical placements. Practical training is carried out entirely at the user's own risk and learners are required to sign our waiver form and obtain their own travel insurance as appropriate. Where a deposit is requested, this is non refundable. Students are required to pay course fees in full prior to attending the practical placement. Practical placement dates may change and are subject to availability, please see our
T&Cs.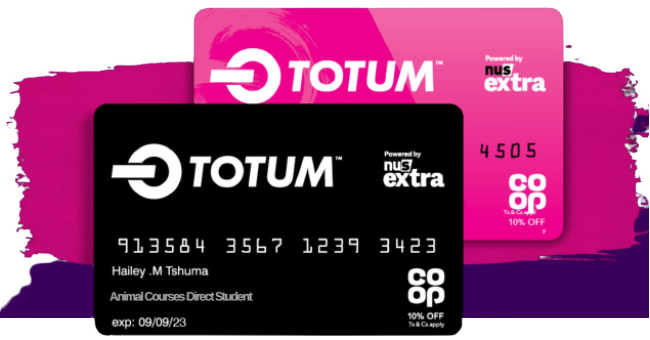 GET YOUR NUS EXTRA/ TOTUM CARD
All students who complete qualifications from level 3 or above are eligible for the NUS extra / Totum Card, which gives you access to over 200 UK student discounts with brands like Co-op, Amazon and ASOS. Apply and find out more at https://www.totum.com/