June Sale - 40% off all courses with code JUNE22 - Ends Monday 27th June
Veterinary Physiotherapy with Hydrotherapy Level 6 Diploma (RQF) - Part 3
| | |
| --- | --- |
| Ofqual Code | 603/7725/2 |
| Qualification Level | 6 |
| Course Level | 1879 |
| Guided Learning Hours | 267 |
| OCN West Midlands | 3 Years |
| Enrolment Valid For | 3 years |
| Credits | 153 |
| Entry Criteria | Minimum age : 18. Learners must have a Level 3 Diploma in Hydrotherapy (including treadmill unit – with either ABC/SEG, Open College Network West Midlands or OCN London) and prior experience within the industry. Learners must be able to access veterinary physiotherapy clinics to complete 800 hours of clinical practice. |
| Assessment Method | Portfolio of Evidence and practical assessment |
| Practical (mandatory) | Learners need to attend 25 days of practical training and assessment (at one of our centres) PLUS 800 hours of physiotherapy clinical practice |
| Award Type | Diploma |
The Level 6 Diploma in Veterinary Physiotherapy with Hydrotherapy qualification will provide learners with a higher-level knowledge of small animal hydrotherapy and allow them to qualify as a veterinary physiotherapist, gaining the skills, knowledge and practical training required to treat animals both in and out of the water. The course content combines a sound knowledge base of anatomy and exercise physiology in animals along with occupational competence in providing excellent rehabilitation and physiotherapy care for a range of animals and conditions. Please click here for Qualification Guide
The units of this qualification, spread over 3 parts, have been carefully curated with the guidance of industry professionals to ensure that learners receive a rich knowledge base to equip them for a rewarding career in this industry. Learners will explore topics such as advanced neuro physiotherapy, understanding pain, physiotherapy techniques, professional skill, exercise prescription and rehabilitation. Learners will benefit from the higher-level hydrotherapy content which compliments the comprehensive physiotherapy content. Clinical reasoning and case reporting are also examined within this qualification and learners will gain valuable experience by completing 800 clinical practice hours.
This course is an excellent choice for students wishing to qualify as a Veterinary Physiotherapist. On successful completion of this qualification, learners can seek employment as veterinary physiotherapists and hydrotherapists, working to treat animals both in and out of the water. Alternatively, learners can seek employment in a specialist role within a wider practice setting. This qualification also ensures that learners are equipped with the professional skills needed to work as a self-employed Veterinary Physiotherapist.
The practical training will be conducted in small numbers split over the clinical spaces with a mix of live clients and practitioner animals to allow focussed personal development. There will be time for reflective learning as well as larger group workshops. Learners will be actively hands-on in all aspects of running a busy practice and teaching approaches will be adapted to reflect learning styles. A range of practical dates are available. Learners attending the Canine Fitness Centre may be able to benefit from additional benefits and opportunities beyond the structured learning including business mentoring and opportunities with an experienced senior business executive, discounted access to an exercise prescription and client record app, and further clinical and behavioural experience with our partners.
Following completion of this qualification, learners are able to join membership organisations such as the Register of Animal Musculoskeletal Practitioners (RAMP) for which we have Accredited Education Provider Status, meaning upon successful completion, there would be no further evidence or training required to register with RAMP as a Veterinary Physiotherapist
Unit 1
Advanced Anatomy and Physiology
Study the anatomical structures contained within the cardiovascular, respiratory, digestive, and urinary systems.
Learn the impact of physiotherapy on the body
Unit 2
Advanced Canine and Feline Behaviour
Study the behavioural implications which may arise because of pain
Understand how a patient's behaviour may change in response to fear
Learn how to deal with aggressive canine and feline patients
Discover how to use behavioural modification and training techniques to make the session a positive experience for the patient
Unit 3
Advanced Neuro Physiotherapy
Gain a greater understanding of the anatomy of the central and peripheral nervous systems
Study spinal reflexes and the information they give about a patient's neurological function
Learn how to perform a neurological exam on an animal patient
Unit 4
Clinical Practice
Undertake a minimum of 800 clinical practice hours across the duration of their training
This training will be supervised and will allow learners to observe and apply aspects of learning and practical skills required for the veterinary physiotherapy profession

Unit 5
Clinical Reasoning
Study the clinical reasoning in the rehabilitation setting and how clinical reasoning errors occur
Unit 6
Hydrotherapy and Physiotherapy Programmes for Rehabilitation of the Injured Patient
Explore the common injuries which patients are referred for rehabilitation
Learn how to create treatment goals for patient rehabilitation.
Develop a hydrotherapy/ physiotherapy treatment plan for rehabilitation
Learn how to evaluate the response to a treatment plan for rehabilitation
Unit 7
Pathology
Discover the anatomical structure of the cell and the function of the components which make up the cell
Understand the causes of cellular damage and how different types of injury affect the cell in different ways
Unit 8
Physiotherapy Exercise Prescription
Learn how to ensure the home environment is suitable for the patient
Learn how the stage of the healing affects the exercises prescribed
Learn how to develop an exercise prescription for a specific patient

Unit 9
Physiotherapy Techniques
Discover the physiotherapy techniques that can be used for rehabilitation
Study the techniques and equipment that can be used to enhance patient strength, range, and balance
Unit 10
Principles and Practise of Rehabilitation
Learn the principles and goals of rehabilitation
Study how differences in morphology can impact the rehabilitation of small animal patients
Explore the different rehabilitation settings in which therapies can take place
Unit 11
Professional Practice Including Communication and Conduct
Learn how to promote good practice in the veterinary hydrotherapy and veterinary physiotherapy setting
Study how to effectively use communication and codes of conduct relating to the industry
Unit 12
Professional Practice for Veterinary Physiotherapists
Examine the ethics and legislation surrounding professional rehabilitation practice
Learn about the professional membership for Physiotherapists
Unit 13
Professional Project
Conduct a supervised project, and develop an understanding of how to formulate, conduct, analyse and present a project

Unit 14
Professional Skills for Veterinary Physiotherapists
Learn how to implement competent, compassionate, and safe animal handling
Study the health and safety precautions to deliver a safe service in physiotherapy
Understand the professional behaviour requirements for a Veterinary Physiotherapist
Learn how to keep professional records as a Physiotherapist and the importance of doing so
Unit 15
Rehabilitation of the Juvenile Patient
Study the development of the skeleton and the skeletal differences which may exist amongst juvenile patients,
Study conditions young patients are referred for rehabilitation for and understand the ways to adapt to their needs
Unit 16
Small Animal Ethics and Legislation
Explore the ethics relating to small animals with a focus on dogs, cats, and rabbits
Explore different ethical viewpoints in small animal legislation

Unit 17
Treatment Case Study
Construct a 2500–3000-word case study about a particular patient and their treatment session
Unit 18
Understanding Pain
Understand the physiological mechanisms surrounding pain and the complexity of managing chronic pain
Study how patient behaviour may be affected by pain
Learn the pharmaceuticals commonly prescribed by veterinary surgeons to treat pain
---
A Career in Veterinary Physiotherapy
Veterinary physiotherapists work alongside other veterinary staff to provide treatment for animals presenting with a range of conditions. Some physiotherapists focus on the equine sports industry, specifically racing and other sporting disciplines. Others choose to work independently, setting up their own businesses to work with horses, dogs and other small animals.
A veterinary referral for physiotherapy can help animals to recover from a range of conditions such as:
back pain
sprains
strains
fractures
sporting injuries
post surgery recovery
improving biomechanics and athletic ability
The use of physiotherapy within the veterinary sphere is increasing. Animals can undergo a variety of treatments such as:
manual techniques
electrotherapies
exercise therapy
*You will have access to the course for 36 months only, after which, you can purchase extensions.
Study the advanced methods used by Veterinary Physiotherapists and Animal Hydrotherapists.
Learn the advanced therapy methods used for small animals on land and in water.
Discover in-depth knowledge on animal rehabilitation and various therapies and treatments.
Gain 25 days of physiotherapy training and assessments.
Plus 800 hours of clinical practice experience.
About your Course
The Level 6 Diploma in Veterinary Physiotherapy with Hydrotherapy is an advanced degree-level qualification. This qualification will enable you to become a qualified Small Animal Physiotherapist and work with animal patients in and out of the water.
This course is for learners aged 18+ who must have a Level 3 Diploma in Hydrotherapy (including treadmill unit – with either ABC/SEG, Open College Network West Midlands or OCN London).
Students must complete 800 hours of clinical practice, and 25 days of practical training and have prior experience in the animal industry.
The course includes 51 mandatory units, split across three parts.
Part 1 includes Level 4 in Advanced Small Animal Hydrotherapy.
Part 2 includes Level 5 in Veterinary Physiotherapy with Hydrotherapy. (Not included in this payment)
Part 3 includes Level 6 in Veterinary Physiotherapy which is the final stage. (Not included in this payment)
You must complete all parts (Part 1, Part 2, and Part 3) to obtain a certificate and become qualified in Small Animal Hydrotherapy and Veterinary Physiotherapy.
Following completion of this qualification, learners can join membership organisations such as the Register of Animal Musculoskeletal Practitioners (RAMP). learndirect has the Accredited Education Provider Status, meaning upon successful completion of this qualification, students do not require any further training to register with RAMP as a qualified Veterinary Physiotherapist.
Getting Started
Animal Courses Direct
is the UK's leading online course provider. Our online courses give you the flexibility to engage with your studies whenever suits you best.
The benefit of blended online learning means that you can plan your studies around your existing commitments. So, you're able to progress with your learning in a way that works for you, without the stressful balancing act.
What's more, we have dedicated and experienced online tutors to support you throughout your course. As well as all the material being readily available as soon as you enrol so you're able to start right away.
For more information about Part 1,
click here
. For more information about Part 2,
click here
.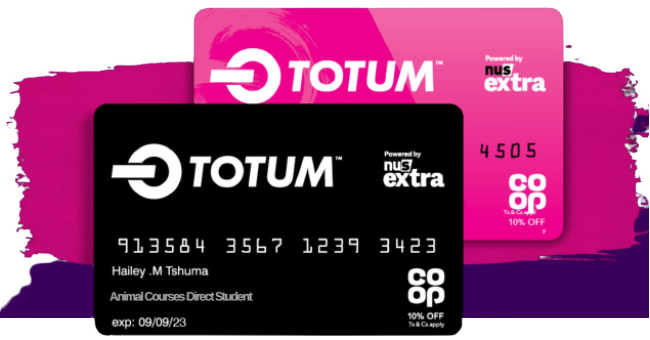 GET YOUR NUS EXTRA/ TOTUM CARD
All students who complete qualifications from level 3 or above are eligible for the NUS extra / Totum Card, which gives you access to over 200 UK student discounts with brands like Co-op, Amazon and ASOS. Apply and find out more at https://www.totum.com/