May Sale - 40% off all courses with code MAY22
Level 3 Award for Pet Care in Retail
| | |
| --- | --- |
| Ofqual Code | 603/6597/3 |
| Qualification Level | 3 |
| Award Type | Award |
| Guided Learning Hours | 103 |
| Study Mode | Online |
| Start Date | Anytime |
| Enrolment will be valid for | 2 years |
| Entry Criteria | Open to anyone over the age of 16 |
| Assessment Method | Variety of in-depth assessments for each unit |
| Awarding Organisation | OCN West Midlands |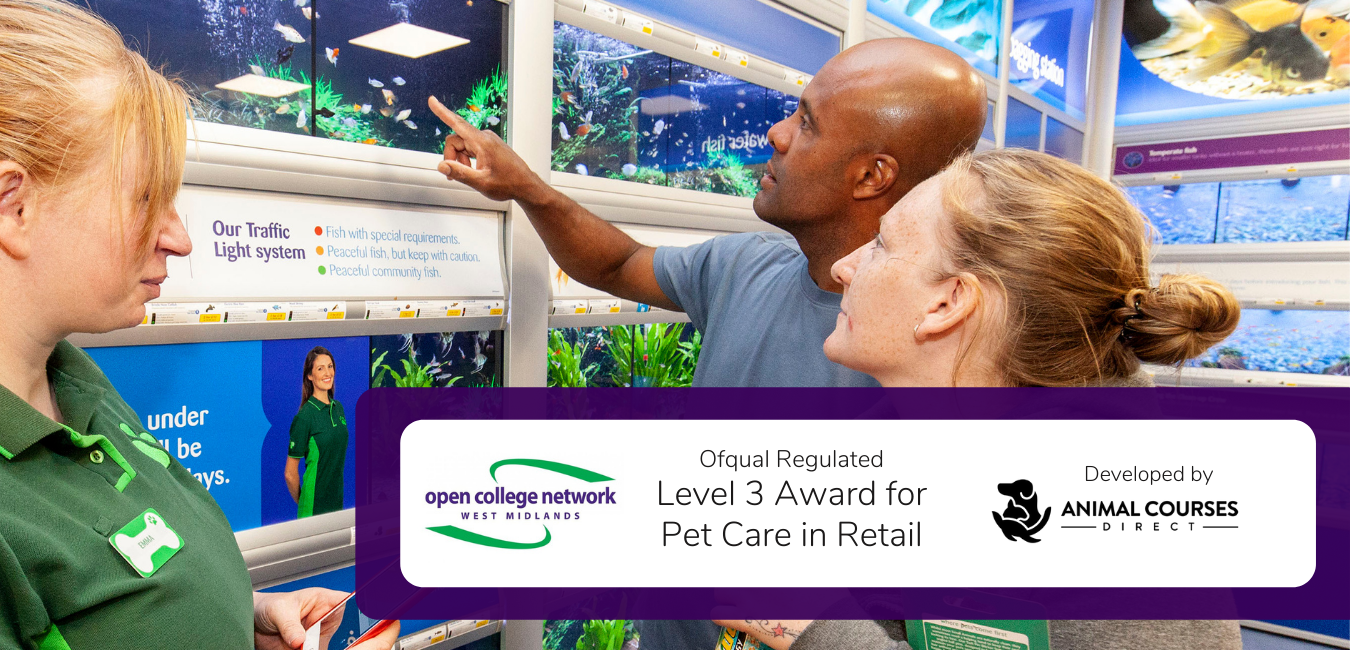 Unit 1
Animals as pets
This unit studies the classification and history of common pet species. The unit also explores the keeping of animals as pets and the legislation and regulations relevant to pet retail environments.
Unit 2
Animal Nutrition
Learn about the nutritional requirements of companion, bird, aquatic and exotic species, including the role of the different nutrients within the body and the digestive mechanisms. This unit studies the different food types, their nutritional contents and the natural feeding behaviour of common pet species. Learn how to create an effective feed plan, how to change this for different life stages and how to identify the signs of nutritional deficiencies.
Unit 3
Animal Disease, Health and Hygiene
This unit explores the animal health and hygiene requirements of different pet species, including the prevention and treatment of common diseases. Learn about the importance of an effective care plan and the legislation relating to cleaning, hygiene, and waste disposal. Learn how to deliver basic treatments and preventative measures.
Unit 4
Animal Accommodation and Enrichment
This unit explores different types of animal accommodation including the environmental conditions required for different species. Learn about the importance of environmental enrichment for wellbeing and the various ways this can be provided for different species.
Unit 5
Advising Customers on Purchasing a Pet
Learn how to advise customers about their initial purchase, how to ensure a good match and how to advise on the provision of ongoing care. Learn about the different routes to pet ownership and the legal obligations of pet owners and the pet retailers.
Unit 6
Customer Care and Retail in a Pet Shop
Learn about pet retail, customer care and staff wellbeing. The learner will understand legislation relating to pet retail environments including health and safety and licencing regulations.
Level 3 Award for Pet Care in Retail
This qualification consists of 6 units set at Level 3. It is relevant for those seeking to work with animals in a pet shop environment. Those working at pet shops have the responsibility of caring for a wide range of small animals. They are required by law to provide a safe, clean and enriching environment and to ensure that animals are appropriately cared for. These requirements are covered during the course.
The qualification covers a range of small animals, reptiles, aquatic species and birds that are commonly kept as pets. It includes information on animals such as: rabbits, guinea pigs, fancy mice, rats, gerbils, hamsters, birds, freshwater and tropical fish species, snakes, lizards, bearded dragons and tortoises. The learner will study the history of these species, why they are kept as pets and how to provide good quality care for them.
Having a comprehensive knowledge of animal care requirements and products is essential for work in a pet shop. The pet care in retail qualification explores care of companion animals, nutrition and grooming, health and hygiene, environmental enrichment, legislation and advising customers.
Pet ownership has many advantages for wellbeing such as reducing stress and loneliness and providing opportunities for physical activity. Pet animals also experience advantages such as a safe home, consistent access to food and companionship. Working in a pet shop is an excellent opportunity to inform customers about what animals need to experience a good quality of life and what to think about before buying a pet.
This pet shop qualification consists of 6 units covering an extensive range of material including:
The welfare requirements, regulations and legislation for pet species along with the classification and history of common pet species and the ethics of keeping animals as pets.
The feeding requirements of animals to ensure a balanced diet and explore common animal nutritional problems.
The common diseases found in animals and the preventative measures owners can use with animals to keep them healthy. The learner will also understand how to deliver basic treatments and preventative measures.
The accommodation needs for different pet animals and the effective use of environmental enrichment.
How to find a good match between the customer and type of pet, understanding the different routes to pet ownership, including rehoming, rescuing and breeders, and how to provide effective ongoing care and advice with regards to animals kept as pets.
Effective customer care and the legal and regulatory responsibilities of working within a pet shop.
The pet care in retail qualification is of relevance to staff employed within the pet care industry and all those considering such work. On completion of this qualification learners can progress on to a range of related qualifications according to their interests. Animal Courses Direct have courses available on pet bereavement, animal first aid, animal behaviour, pet sitting and kennel and cattery management.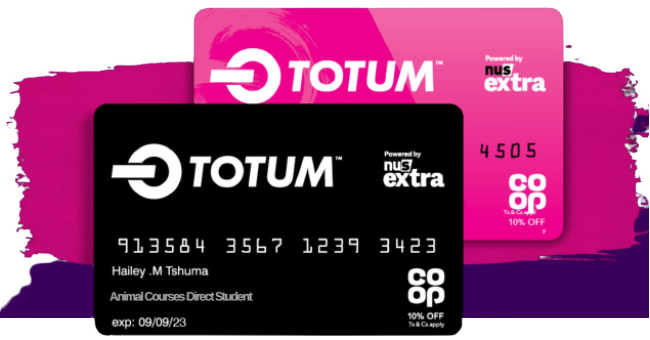 GET YOUR NUS EXTRA/ TOTUM CARD
All students who complete qualifications from level 3 or above are eligible for the NUS extra / Totum Card, which gives you access to over 200 UK student discounts with brands like Co-op, Amazon and ASOS. Apply and find out more at https://www.totum.com/